In this blog, we want to address the scenarios most likely to affect faculty teaching in hybrid, hyflex, or online courses in Fall 2020.
What if I want to use my previous Eli course again?
Great! Clone it. Go to your previous Eli course, which may be in the Inactive Course Tab. Enter the course. The "clone"button is above the task dashboard.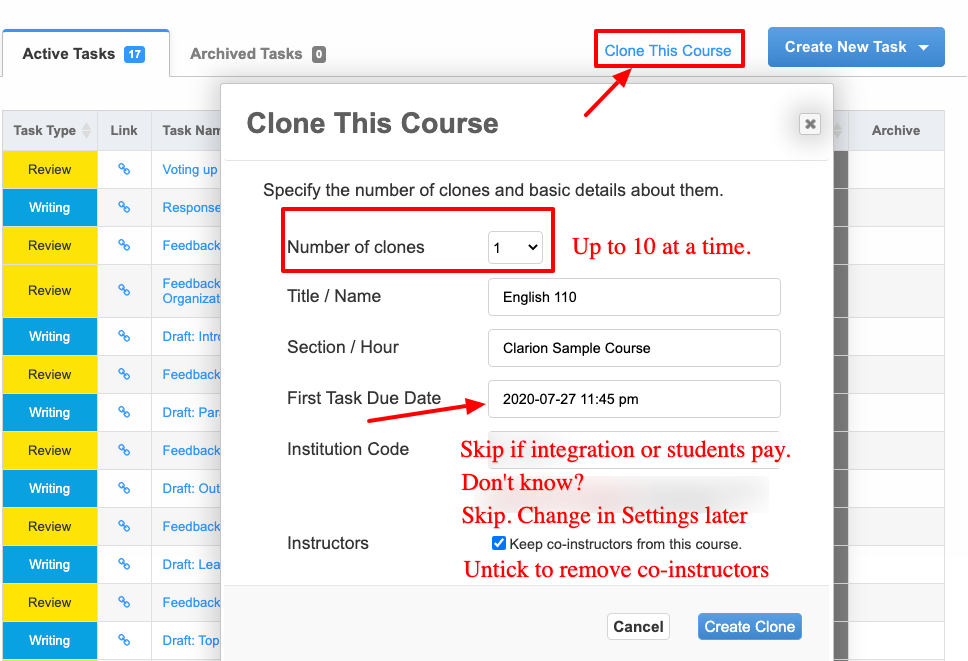 This tutorial guides you through caveats if your campus also has integration or if someone in your department makes clones for you.
The due dates in the original and the clone are set by the first task's due date.
If the original course's first task is 7/27/2020, and the clone's first task is 7/27/2020, then all the remaining tasks have the exact same due dates.
If the the original course's first task is 7/27/2020, and the clone's first task is 8/15/2020, then all the the tasks will have the same number of days between them as in the original course.
Also, the optional Institution Code lifts the paywall if your institution pays for students' subscriptions. When cloning, you can leave the (optional) institutional code blank if you don't know it. The code can be applied under settings later and is applied automatically with integration.
What if there are bookstore delays with Eli Review access cards?
Students can directly purchase Eli Review online. Also, printed access cards can be stocked in your campus bookstore (ISBN: 9780692476123; click for more bookstore details).
Every course that requires students to subscribe also includes a two-week grace period. Instructors choose the start date, and students can get started on their work immediately.

If students need extra days of free access, they can write to [email protected] for help.
What if my students are not in the U.S.?
Eli Review works from all modern browsers. It does not require much bandwidth, and it supports mobile devices.
Users from China, Singapore, and Russia completed assignments in Summer 2020.
What if my students are in different time zones?
Your instructional day is long — 20 hours instead of the typical 8 hours. Plan your due dates so that everyone can seek help before submitting.
Eli's time zone feature can help. Students see the due date in their own time zone. For example, if your course is set to Eastern, and the due date is 11:45 PM, then your students in Pacific see the due date as 8:45 PM.
When you create a new task, to the right of the due date, the Student Timezones option will load a table that shows all the students and timezones that are different from the timezone of the course. (Learn more about Eli's time zone features.)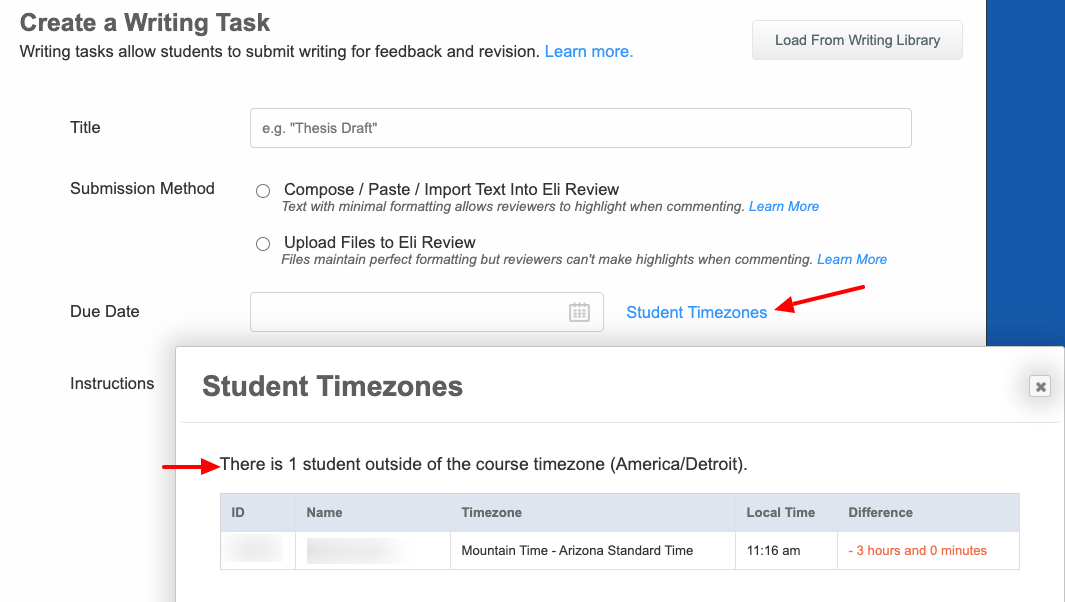 Also, many instructors have found it beneficial to set a weekly routine. Our example timeline makes writing due on Monday, review on Wednesday, and revision plans on Thursday.
Tips from instructors offer different schedules, but John Holland's advice still rings true:
" Never vary the day that work is due."

San Francisco State University's instructor John Holland
What about review groups?
Peer learning works well when students are on-pace together.
Eli's reciprocal peer learning assumes that every writer is a reviewer and every reviewer is a writer. Students who don't submit drafts cause the reviewers in their group to see "waiting" instead of "complete" for the review task.

Several strategies can help reduce the complexity of forming groups when students are working in different timezones:
Consistent deadlines, as described above.
Don't set groups before the deadline for the writing task has passed.
Leave an intentional gap between the writing task due date and when you assign reviews so that you have to manage the fewest late writers.
Announce your strategy for accommodating late writers .
Make sure students understand what "waiting" on their dashboard means.
What if I want help setting up my courses?
Instructors can book a Zoom conference with Melissa at https://calendly.com/melissa-elireview. Evening hours are open and Saturday hours too.