Strategies for Managing Late Writers
One of the challenges of peer learning is on-pace effort. When he is explaining peer learning activities to students, Bill Hart-Davidson reminds students that "learning is not a spectator sport."
To receive feedback, writers must have a draft for reviewers to review. Late writers can't get feedback on writing that doesn't exist, so they hurt themselves, but with online feedback activities, late writers cause delays for people who have been assigned to give them feedback. If Elizabeth has been tasked with giving feedback to Carolyn, but Carolyn hasn't turned in her writing, Elizabeth is stuck in limbo until she has something from Carolyn for her to review.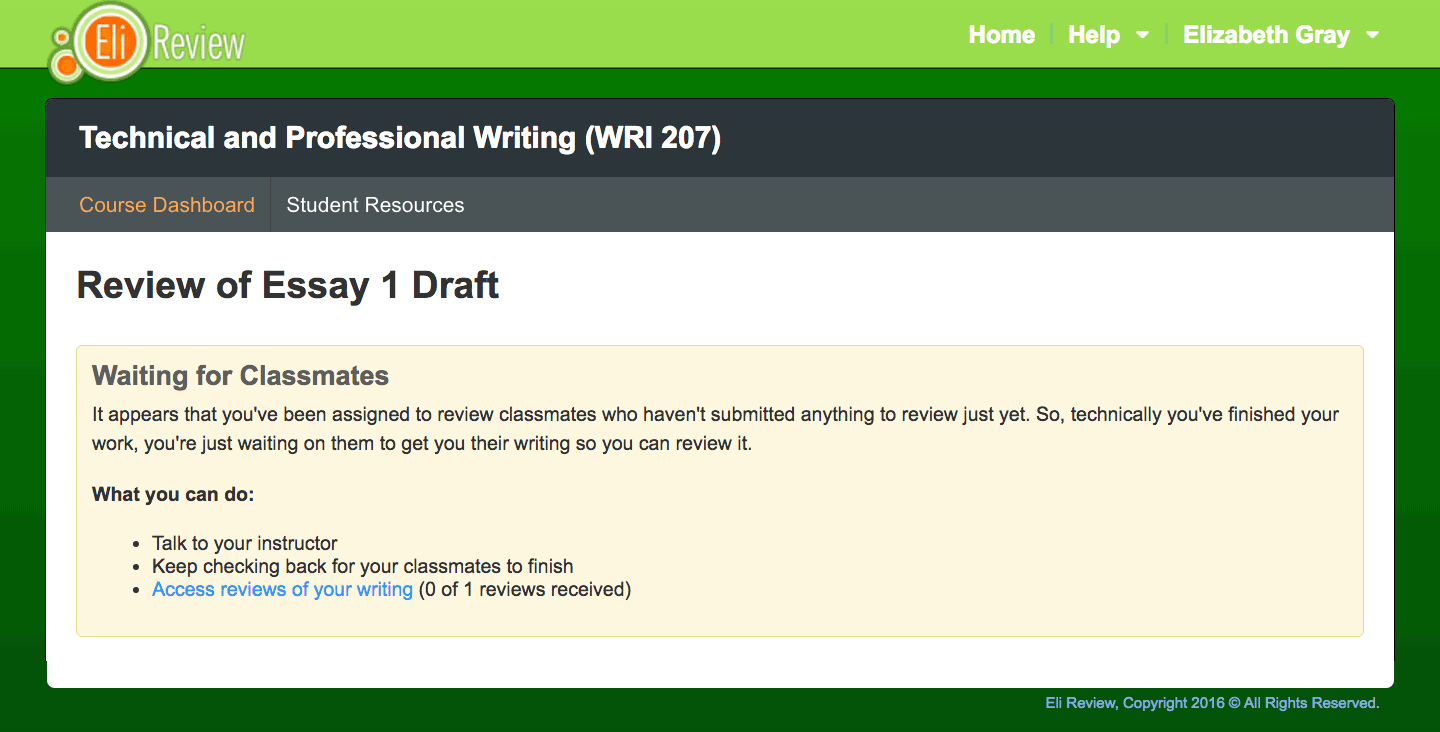 Online platforms like Eli Review give instructors much greater visibility into student engagement (or lack thereof), but there are also tools to make it easier for instructors to coordinate this process. When it comes to managing groups, Eli Review's group manager tools make it relatively easy to create groups and rearrange students as needed.
Identify late writers: Eli will put a red flag next to each student who hasn't completed the writing that's being reviewed in an activity. Groups will turn red to warn instructors when a late writer is present.
"Exclude group late writers" – checking this option will prevent late writers from being sorted into groups when either of the auto-group options is used (shuffle or specify # of reviews).
Drag and drop – if a group turns out to have a late writer it in, simply click that late writer and drag them back into the "Ungrouped Reviewers" box.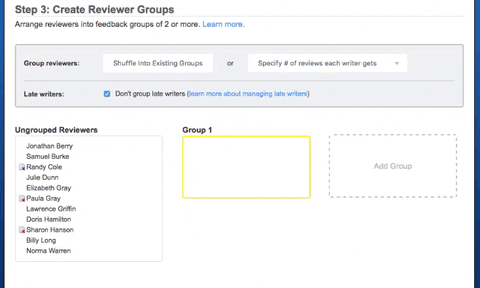 At Eli Review, our metaphor for this challenge is driving the review bus. As instructors, we pick up writers who are at the bus stop with draft in hand and put them in a group so that they give (and thus get) feedback. We then swing back by to pick up those who are running late. This is a normal and expected part of managing groups, and the strategies below explain how to reduce that coordination workload.
Here are four strategies we've found work particularly well for instructors who need to manage late writers.
---
Strategy 1: Assign a review AFTER writing tasks are due.
We generally recommend that writing tasks be due the day before reviews are assigned. By waiting to assign review until after the writing task due date has passed, you allow writers who are late by a few hours to participate in review without having to take extra steps to include them.
As an example, if review begins on Tuesday, follow these steps:
Create a writing task and make it due on Monday.
Create a review task, but don't assign it; "save as draft" until Tuesday.
On Tuesday, edit the review draft and arrange the groups.

Check "Exclude late writers from groups." Here,  "late" means no draft submitted.
Choose one of two methods for setting up groups:

To specify the number of reviews each writer will get (up to 5), use the dropdown to select the number of reviews; Eli will generate the correct number of groups automatically.
To manually create your groups, use the "Add Group" button as many times as necessary, then click the "shuffle" button to move writers into those groups, or drag-and-drop them as you see fit.

If you've created groups that include late writers and then decide to exclude them, you can:

Drag-and-drop late writers from their groups into the "Ungrouped Writers" box.
Check "Exclude late writers from groups" and then click the shuffle button; late writers will be pulled to "ungrouped."

When you are satisfied with the groups, choose "Save Groups."

Finally, "assign" the review to get reviewers going.
---
Strategy 2: Explain to students how you will approach late writers.
We work with instructors who have strict deadlines with no exceptions. These instructors make sure that late writers feel the loss of feedback. Students whose writing tasks are submitted too late for review usually lose points. More importantly, late writers aren't given an alternative path to peer or instructor feedback. They missed it. These instructors debrief with the class and give individualized feedback only to those individuals who submitted writing in time for review.
We also work with instructors who accommodate writers that have missed deadlines in various ways. Some have standardized pick-up times for late writers. Students whose online access is limited and/or whose lives are complex often need more flexibility. We've even worked with teachers who have online students who live in multiple time zones! These instructors set reviews groups at 9 AM, then again at noon, and maybe once more at 3 PM. Early birds work with early birds, and more writers get a chance for feedback even if they missed the deadline.
Explain your stance to students, and take one of these actions:
Leave late writers in "ungrouped" like a holding area.
Add writers who have caught up to groups at an announced schedule.

Follow the steps outlined above in "assign review AFTER writing tasks are due" to set up groups at 9 AM.
At noon, use the "add group" option to add groups and then manually drag and drop the late writers who have caught up to the new groups.

Group late writers together so that they have a chance to catch up if other off-pace students also catch up. These students won't receive notifications from Eli about when peers have submitted drafts or given feedback, so they have to check to see if others have caught up.
Important Considerations

Use caution when using either the "shuffle into existing groups" or "Each writer gets X reviews" buttons after groups have begun work. These buttons shuffle the full list of reviewers. You must drag-and-drop late writers who have caught up into groups.
A "late" writer is a student who has not submitted the draft. "Late" does not signal that the student submitted it at 3:00 AM when it was due at 11:59 PM the day before.
---
Strategy 3: Be aware of how your choice affects students' dashboards.
Students see every task on their course dashboard, which is similar to your instructor dashboard but with a few extra indicators.

When you are editing groups, students experience your choices this way:
Students who are "ungrouped" do not see the review task on their dashboards. The review task is "assigned" only to those who are in a group. Ungrouped students will literally not see that the rest of the class did a review.
Students in review groups see the task name on their dashboard. They can access classmate's drafts and respond to your review prompts. Once they've submitted feedback to all the writers in their group, their dashboard indicator will become green for "complete" and they can access feedback they've received from their reviewers.
Students in groups with late writers can likewise see the task name and give feedback. However, since they can't give feedback to a late writer, the task will display "waiting" until the late writers turn in their work and the reviewer gives feedback. This tends to frustrate reviewers, who are very motivated to turn red tasks green.
The following cheat sheet explains how the student dashboard reports review tasks:
| Situation | Review Task on Dashboard? | Task Status after Submitting Feedback? | Student Included in Engagement Analytics? |
| --- | --- | --- | --- |
| Ungrouped | No | N/A | No |
| Grouped with all prepared writers | Yes | Complete | Yes |
| Grouped with late writers | Yes | Waiting | Yes |
---
Strategy 4: Try not to move reviewers once they've begun work.
Students who are in groups with late writers (or late reviewers) might ask to be switched to a group that is on-pace. Eli allows you to move students between groups at any point, including after they've begun giving feedback. It's easy for you to intervene to address engagement issues.
Remember, however, that moving a student between groups creates new work for everyone in the group. Eli requires students to give feedback before they receive it. Moving students between groups requires them and their new group members to give feedback before they can get it. Here's how that works:
Elizabeth Gray was assigned to give feedback to 3 peers: one late writer, one late reviewer who hasn't yet given her feedback, and one reviewer who gave her minimum feedback. She asks to be moved to a new group.
You move Elizabeth Gray to an on-pace group of 4 who have already finished giving each other feedback.
Now, all five members in the formerly on-pace group of four has new work, which slows them down:

Those four students have to give Elizabeth Gray feedback BEFORE they can access the feedback reports they'd previously seen.
Elizabeth has to give feedback to those four students BEFORE she can get her feedback report.

Elizabeth Gray's former group members get a bonus.

Eli no longer expects the late reviewer to give Elizabeth feedback since she's no longer in the group. There's no record that this late reviewer failed to give her feedback as originally assigned.
They can still access the comments she gave them, and she still has access to the comments they gave her.

Moving Elizabeth Gray also affects her engagement analytic numbers.

Her counts for reviews assigned/reviews completed only shows her work in the new group (0/4).
Her review feedback comment totals and helpfulness ratings will be inflated compared to peers in the Review Feedback tab and the Engagement tab. She had more opportunities to give feedback than other students because she participated in two groups.
Moving students around to address engagement after work on the review task has started is possible, but every decision to move a student between groups affects both groups' work load and analytics.