---
Overview – How Subscriptions Work
Any Eli Review user can participate as both an instructor and a student. Using Eli as an instructor is free (there is no cost to create courses and manage tasks) but participating as a student requires a subscription.
Subscriptions vary in length but allow users to participate in an unlimited number of courses for the duration of that subscription. Students will continue to have access to their work even after a subscription ends, but they won't be able to participate in new tasks.
There are two types of Eli Review subscriptions: individual subscriptions purchased by students, and institutional subscriptions purchased by schools or organizations.
---
Individual Subscriptions
When instructors individually adopt Eli Review in their classrooms, students must purchase their own subscriptions. They will be prompted to purchase a subscription when they join a course.

Purchasing a subscription takes just a few clicks (once you've already created an Eli Review account and joined a course):
Click any link prompting you to "click here to subscribe", or
Select Account Settings from the dropdown menu under your name in the upper right
Click the button corresponding to the length of the subscription you want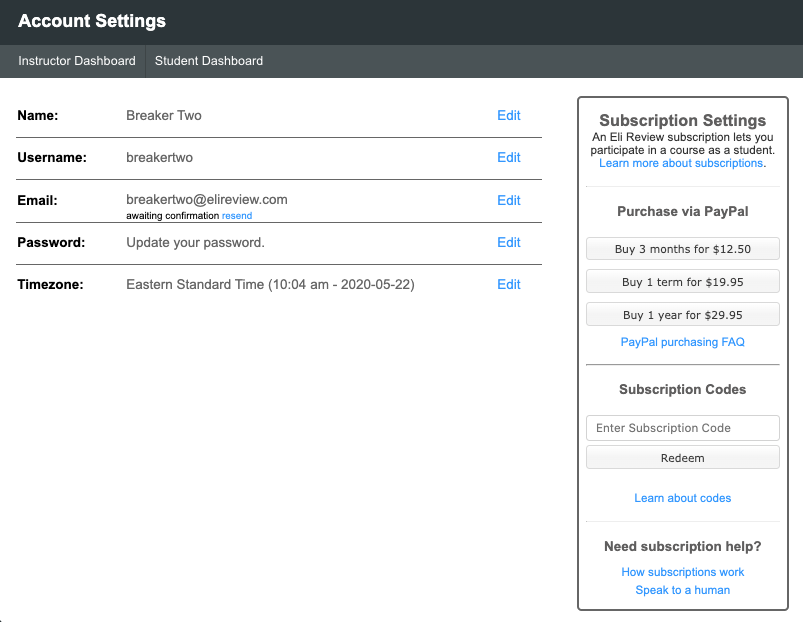 NOTE: Some campuses have special pricing.
From here, you can choose an option for purchasing a subscription: purchasing via PayPal or redeeming a subscription code listed on printed access cards purchased in the bookstore.
Using PayPal to Pay with a Bank Account, Credit/Debit Card, or eCheck
Once you've clicked on a subscription option, you go to PayPal where you'll be prompted to pay for your subscription. PayPal handles all of Eli Review's transactions and gives you multiple options; you can:
have funds deducted directly from your bank account (requires a PayPal account)
pay with a credit card
pay with an e-check
redeem a prepaid PayPal gift card
If you have a PayPal account, you can just sign in to PayPal and use your existing bank or credit card information; if not, click "Don't have a PayPal account?" and checkout using a credit card without signing up for PayPal.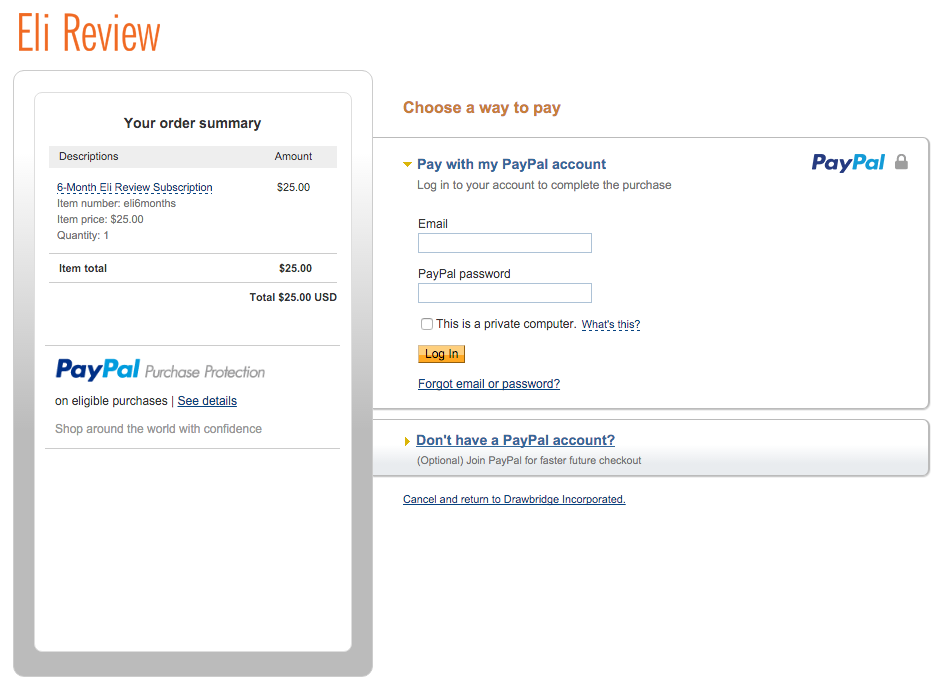 Payments bank accounts or credit cards will give you an instant subscription in Eli Review; payment with an e-check requires 3-5 days for PayPal to process, but you'll be given a temporary Eli subscription that will allow you to participate in courses while the payment is processed.
You can also buy pre-paid PayPal gift cards at many office supply stores or drug stores. Purchasing and redeeming a PayPal pre-paid card is very easy; see PayPal's FAQ for additional information.
See our Subscription FAQ below for additional details about purchasing individual subscriptions via PayPal.
Subscription Codes and Access Cards
A subscription code allows students to purchase a subscription without using PayPal. Subscription codes most often come from access cards purchased in campus bookstores; students can purchase a code in a bookstore and then redeem that code for a subscription, much like a gift card.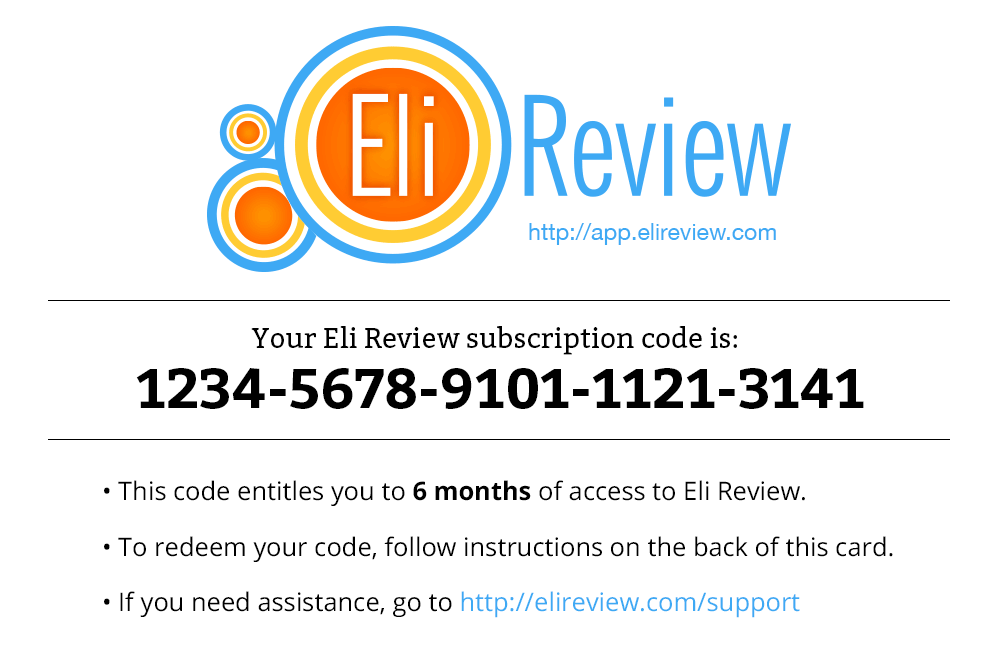 Follow these easy steps to redeem a subscription code:
Click any link prompting you to "click here to subscribe", or
Select Account Settings from the dropdown menu under your name in the upper right
Find the "Subscription Codes" section under "Subscription Settings"
Enter your 16-digit subscription code and click the "Redeem" button.
To order access cards for your campus bookstore, share these details with your bookstore manager.
---
Institutional Subscriptions
Institutions (schools, departments, etc) may purchase Eli Review subscriptions in bulk. When instructors connect their courses with an institutional purchase using a course code, students enrolling in that course are automatically granted a subscription from that institution's pool of purchased subscriptions.
Institutions have the ability to manage their subscription usage.
To purchase subscriptions in bulk for an institution, contact [email protected].
---
Subscription FAQ and Troubleshooting
Why was my credit card declined while purchasing my subscription?
Eli Review itself does not handle any money – PayPal handles all of our payment processing. There are many reasons why PayPal might decline a credit card, but the most common reason is related to billing addresses. For example, if a student enters a campus mailing address when PayPal asks for a billing address, but the address on the card is a parent's home, PayPal will reject that card.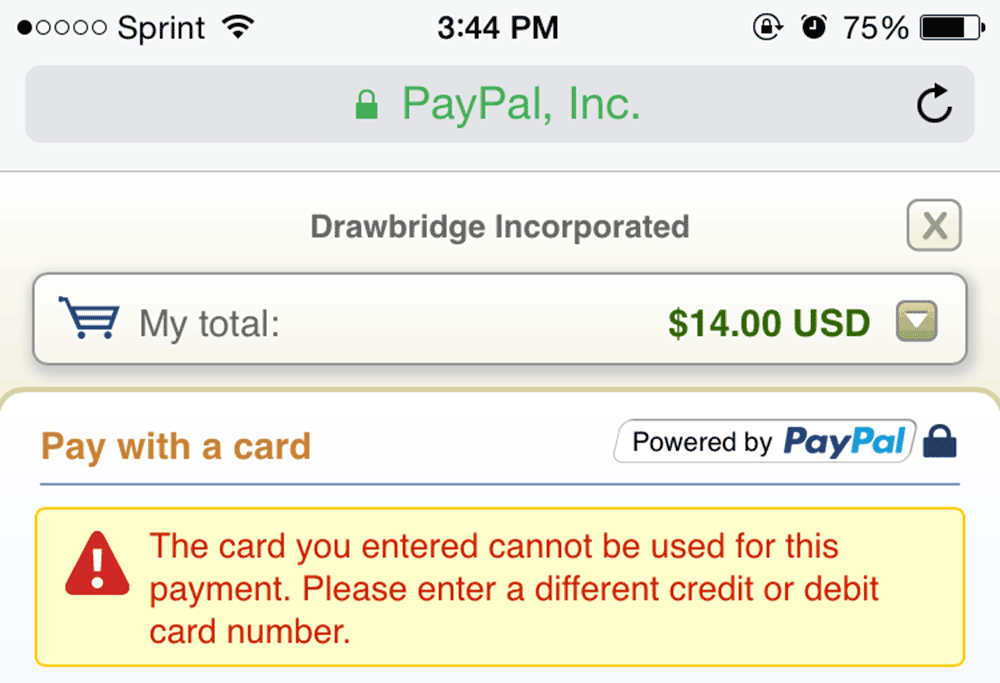 There are several known reasons why PayPal will reject credit cards:
the information entered as a billing address does not match information on the credit card
the credit card is or used to be associated with an existing PayPal account
the email address raises a flag (if the card's billing address is Michigan but the email is a California school, for example)
Some quick fixes that often resolve a declined credit card:
re-enter the billing address to match the address on the card
clear your browser's cache and cookies and reload the form (here's a good tutorial on how to do that)
if you already have a PayPal account, log in to that account and pay that way
If none of these solutions help, try contacting PayPal's Guest Checkout help directly at 1-888-221-1161 (US) or 1-402-935-2050 (outside the US).
You can also contact your bank to find out why your card was declined. All credit cards have a phone number of the back that you can call to discuss payment problems.
Why does Eli Review tell me I have a temporary subscription?
If Eli tells you that you have a "temporary subscription," you are likely paying with an e-check; Eli will grant you temporary access to all of your courses so that you can participate in your courses while your payment is being processed.
I paid for a subscription and my bank shows a successful payment, but Eli said I still have to buy a subscription. What's wrong?
In some rare cases, particularly when PayPal's servers are slow, PayPal will lose its connection with Eli and not communicate that your payment was successful. If this happens, please contact us at [email protected] and provide as much detail as possible. It would be most helpful to forward your PayPal receipt or send the Transaction ID.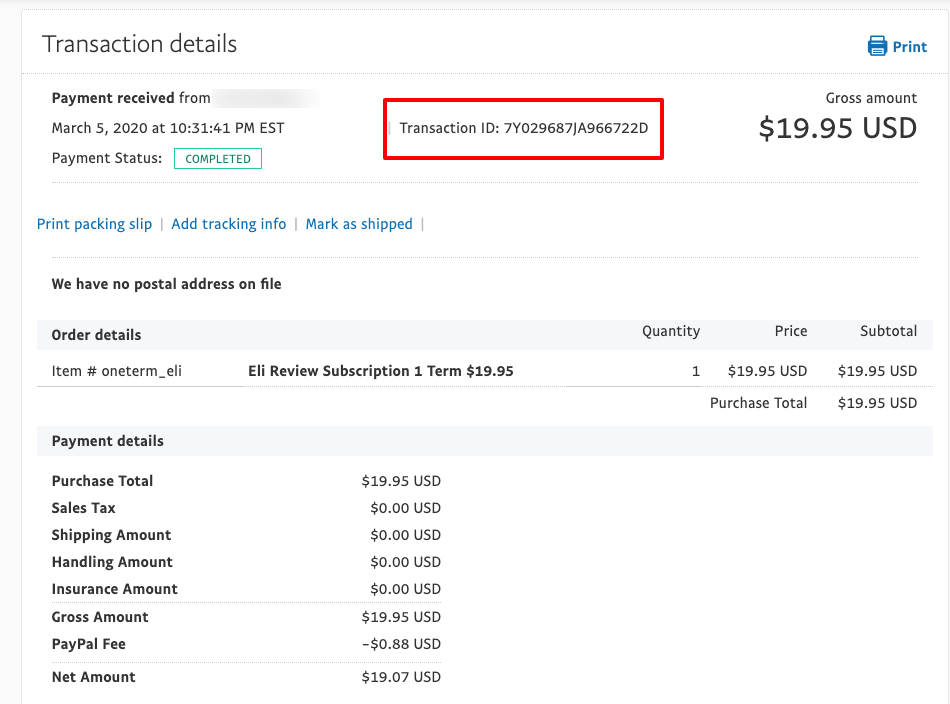 I have homework due tomorrow, but PayPal won't process my payment or my subscription won't show up in Eli Review. What do I do?
Contact Eli Review Customer Support, describe your problem as thoroughly as possible (including forwarding your PayPal receipt or listing your PayPal Transaction ID if you received one), and we'll do everything we can to help.
Can I get a refund on my subscription purchase?
If you've purchased an Eli Review subscription online via PayPal, you can get a refund within one week of your purchase.
If you've purchased a subscription card via a bookstore, contact your bookstore. Refunds will depend on the policy of the individual store; most provide refunds only on unopened cards.