When you're ready to get started with Eli Review, the first thing you'll need to do is create an account. To begin, go to https://app.elireview.com and click the "New to Eli Review? Sign Up!" button.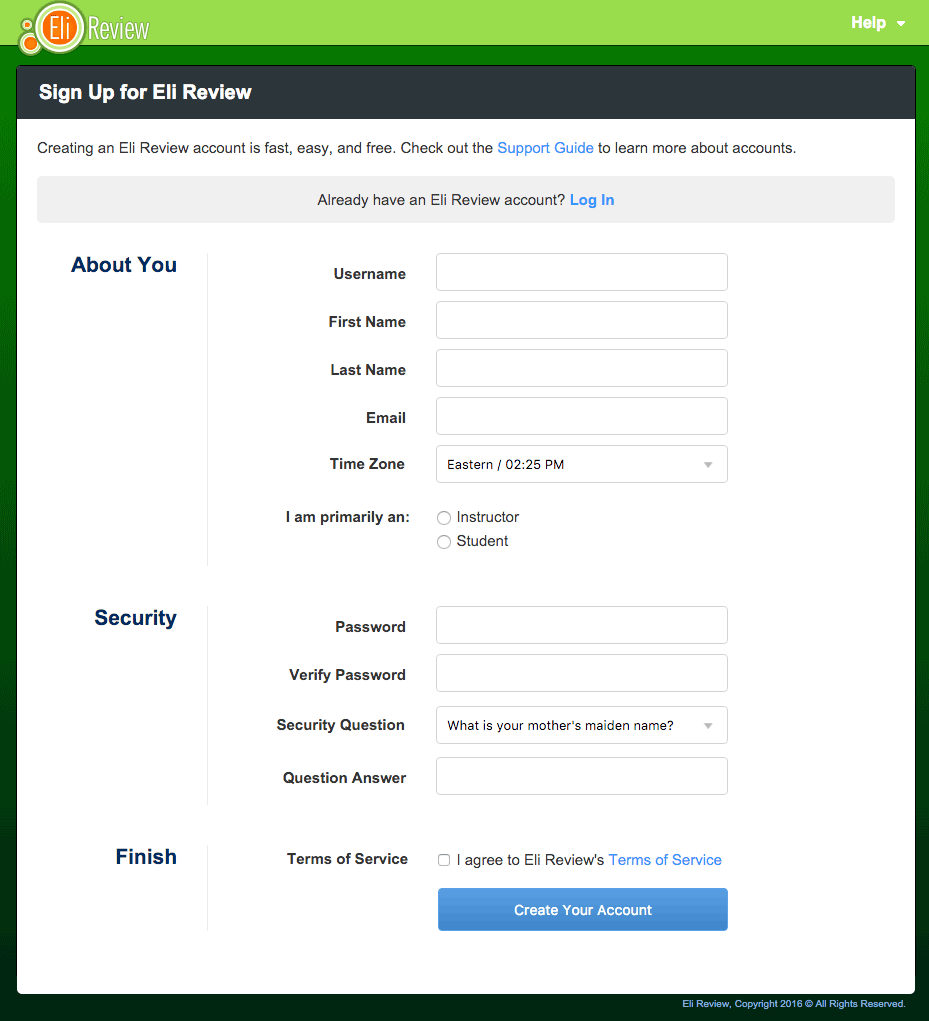 Creating an Eli Review account is easy. You'll need to provide some basic profile information, but pay particular attention to:
Username – the unique identifier you'll use to log in to the system. Eli will let you know if they username you've chosen is available or not.
Secret question and answer – this is another way to regain access to your account in the event that you can't log in or receive email updates. Be sure to pick a question and answer combination you'll remember (or create a question of your own).
Instructors  vs. Students  – While signing up, you'll be asked whether you'll use Eli Review most often as an instructor or as a student. Students won't need to fill out any additional information, but instructors will be asked to identify the institution where they teach.

You can find your institution by searching for your ZIP or postal code. If you're from outside the US, you can use the "Outside the United States" option and enter your school information manually.
Terms of Service – when creating an account, you'll need to agree to Eli Review's terms of service. You can review the terms here as well as our privacy policy.
Passwords and account access – If you're having trouble logging in to Eli, you can regain access to your account through the Password Reset page. You can choose to have a reset link sent to your email address, or you can answer your secret question.
Account Settings
Once your account has been created, you can manage many of your settings from the Account Settings option, accessible by clicking your name in the upper right corner from anywhere inside Eli Review.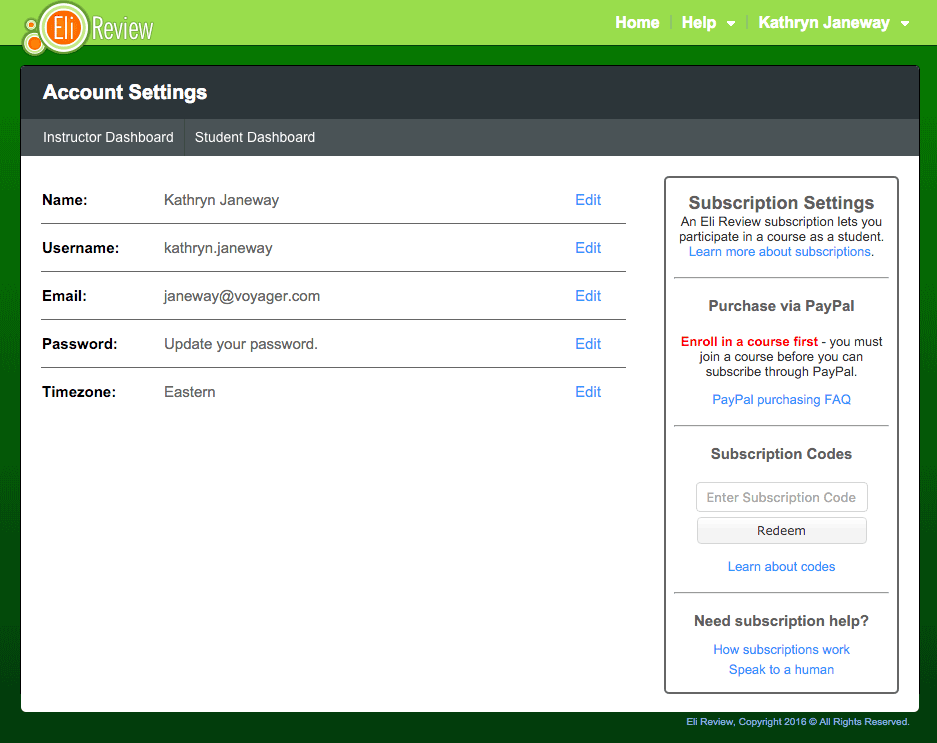 From Account Settings, you can update:
your name
username
password
email address
timezone
Account Settings are also where you or your students will manage your Eli Review subscription.
Account FAQ
I'm not receiving any email from Eli (email validation, password resets, etc). What gives?
If you're not receiving any email from Eli, there are two likely explanations:
the messages are being sent to your spam folder for some reason.
your email provider has a spam filter that sorts your mail before you ever see it.
Check your spam folder to see if the messages are there. If not, try using a different email addresses.
What if I can't get access to my account?
If neither of the Password Reset features are working for you, contact Eli User Support.
Why does Eli tell me I need to be a subscriber before I can do anything?
Instructors can create and teach Eli courses for free, but students must have a paid Eli subscription in order to participate in classes. Learn more about how subscriptions work.