Writing tasks are the most straightforward feature of Eli Review, the initial step in the write-review-revice cycle. They allow teachers to create prompts for which students compose a response. Tasks can be created on the fly – even during a class – or created ahead of time and saved for later. Students see writing tasks, ordered by due date, along with their review and revision tasks on a single to-do list in the Eli Dashboard.
---
Creating a Writing Task
Creating a writing task is one of the most straightforward types of work in Eli Review.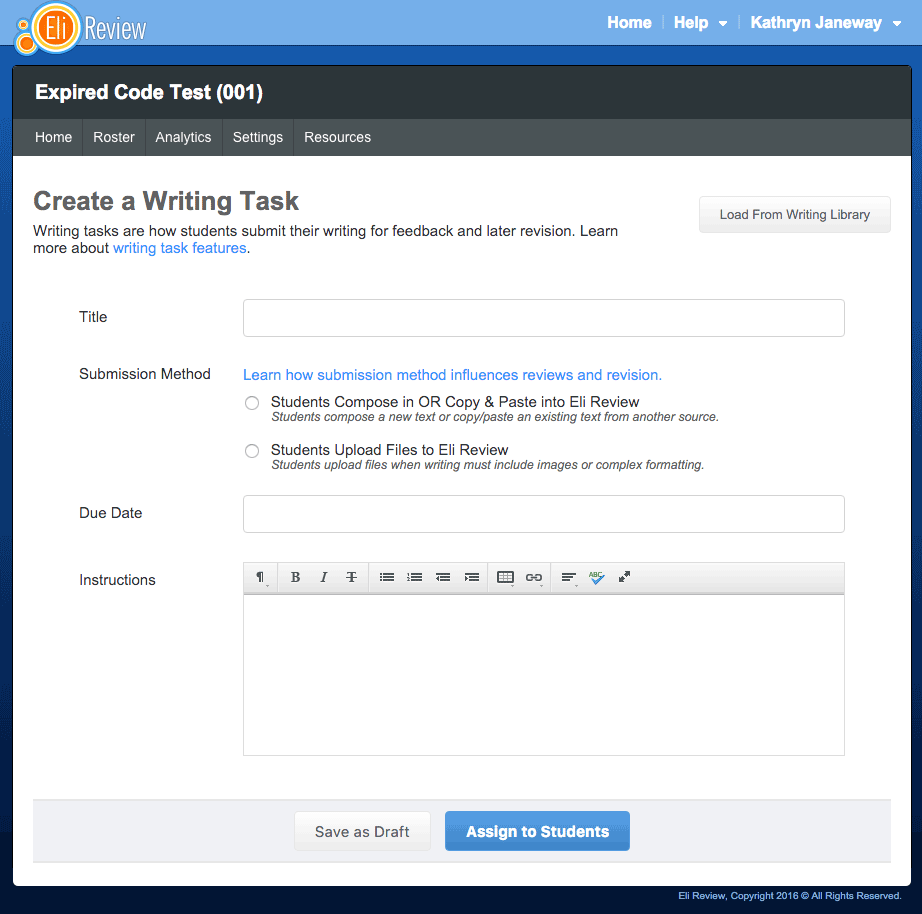 Writing tasks consist of only four pieces of information:
Title – a distinctive title for this task. Specific titles are generally more helpful; rather than "First Writing Task," consider something more descriptive, like "Research Paper, First Draft."
Submission Method – this defines how students will submit writing in response to this task. See the important considerations for review and revision to keep in mind when choosing a submission method, but the two ways students can submit their writing are:

Students Compose in Eli – students are given a WYSIWYG box in which they can compose a new text or copy/paste text from an existing source (e.g. Microsoft Word document).
Students Upload Files to Eli – students upload a single file in response to the task. Keep in mind:

Uploaded files must be less than 10 Mb.
File types are limited:  documents (doc, docx, pdf, txt), images (jpg, png, gif), slides (ppt, pptx), and spreadsheets (xls, xlsx).
Files that are too big or not of an allowed type will result in an error message.

Due Date – specify the deadline by which students must submit their writing.
Instructions – add specifics of any requirements for the assignment or other considerations or guidelines students should know before they begin writing.
Saving vs. Creating Writing Tasks
You have two options for how to save the work you've done preparing a writing task:
Review and Revision tasks work in a very similar way, where you are no longer able to edit tasks once students begin submitting responses.
Loading Existing Writing Tasks
The repository display will allow you to browse all of the writing tasks you've created in the past, even as part of another course. When you've found the  task you want to clone, just click the "Load" link and the writing task form will be populated with the settings for that task. You'll be asked to enter a new due date, and you'll be able to edit any of the settings from previous task. Once you're done editing, you can save the task as a draft or assign it to students, as normal. For more information on loading tasks, see the Task Repository section of the user guide.
How Students Experience Writing Tasks
Curious about what students will experience writing tasks in Eli? Check out the Writing Task section of the Student User Guide.
---
Accessing Student Submissions
Once you've either saved your writing task as a draft or assigned it to your students, you'll be taken directly to the task detail view. From this view, you'll be able to do the following:
Edit the writing task – you can edit all aspects of the task until students begin submitting their writing, after which you can still extend the due date.
See completion progress – this report will indicate how far along the class is overall to completing the task but will also flag individual students who have completed it.
Access student writing – once a student completes the task, their name will become a link. Clicking the student's name will take you to a display where you can see their writing.
Followup tasks – from this report you can start new review and revision task for the selected writing task. If followup tasks have already been created, you'll see links to them from here.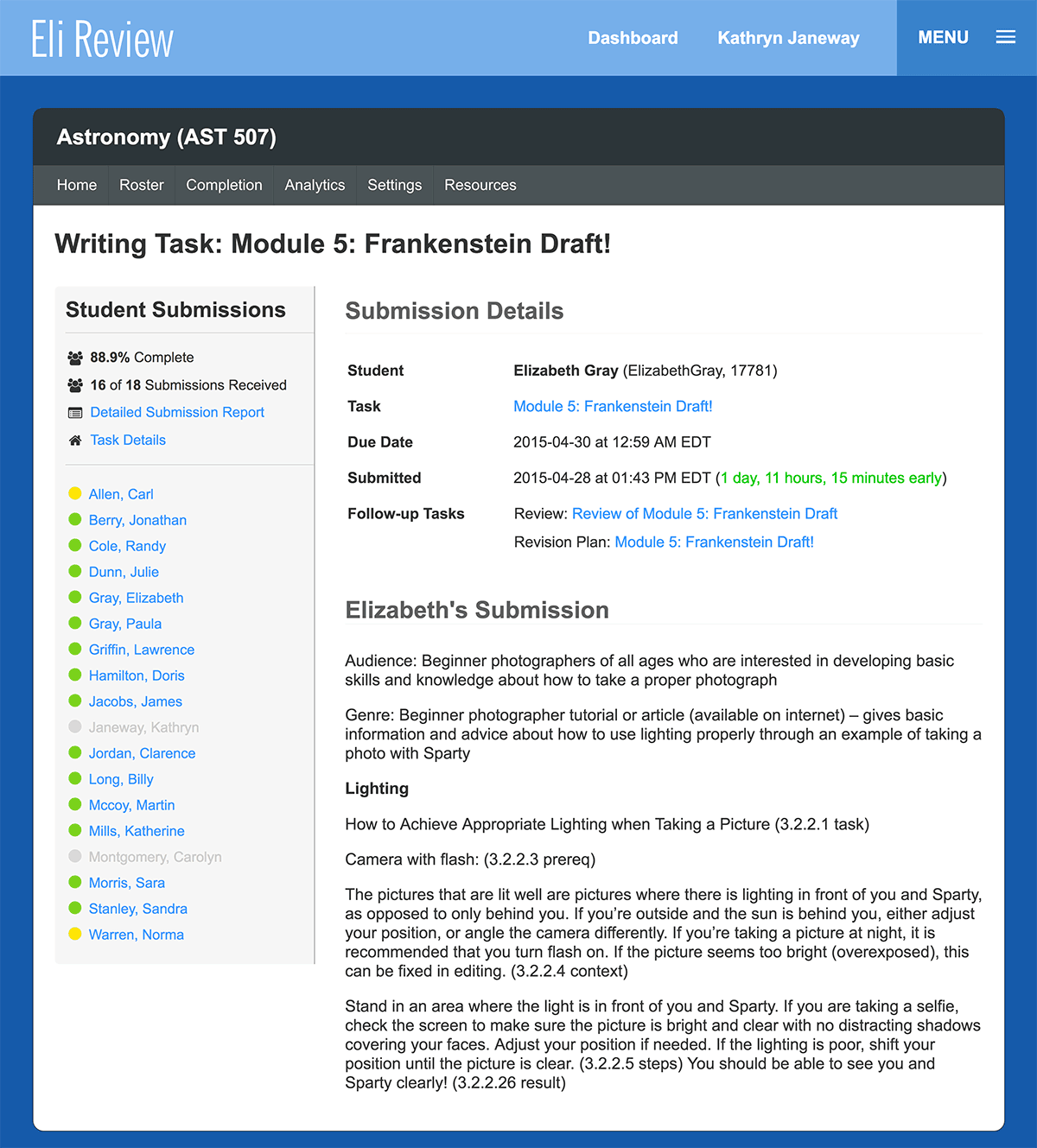 The individual student report for the writing task will either display the full text of the student's submission right in the report or link to the file they uploaded. If there have been review and revision tasks, links in the student report will take you to the report of that task for that student.
---
How Submission Method Influences Review and Revision Tasks
It's important when selecting a submission method for a writing task to consider the implications for the review and revision tasks that will follow. Each method has affordances and tradeoffs; here is the list to consider:
Writing complexity – the writing space for a "Compose in Eli" task is very limited and does not allow images or elaborate layouts. If students are preparing complex documents that use significant amounts of imagery or positioning, an "Upload" type is preferable.
Reviewers and file downloads – files uploaded to Eli generally cannot be displayed in a browser, meaning that files will have to be downloaded in order for instructors and reviewers to read them. This becomes problematic for reviewers, who have to download one or more files for each writer they review. If that weren't difficult enough, reviewers have to toggle between the app displaying the download (Word, Acrobat, etc) and Eli in the browser, making review cumbersome.
Contextual Comments – in addition to juggling multiple windows, when reviewing downloaded files, reviewers lose the ability to make contextual comments. Students may still make comments, but because the file is displayed outside the browser window, comments cannot be tied to passages from the text like they can for "Compose in Eli" writing tasks.
Instructors and file downloads – instructors have a similar problem to reviewers when examining uploaded files, in that the instructor has to download files for every single student who responds to a writing task, and that file has to be opened every time the instructor wants to see the context of a review. This poses problems for revision as well, when instructors have to download both the original file and a revised file in order to make comparisons.
The takeaway: both Submission Method options have important affordances but each also has unique disadvantages. Generally, the "Compose in Eli" task enables the write-review-revise cycle more efficiently.