Revision tasks close the loop of the write-review-revise cycle. By the time they're ready to revise, students will (typically) have received feedback from their peers during a review task, so they'll be ready to start thinking about revisions.

With Eli Review's revision tasks, instructors can ask students to create a revision plan to strategize what they will do to revise their writing, which can be shared and discussed before any revising is done. With a revise & resubmit revision task, students will actually carry out their revision plan and submit a new piece of writing that instructors can compare with the original. After a revision plan is shared, all the artifacts of the student's writing process – original draft, all of the feedback they received, their plans for revision, and their actual revision.
---
Creating a Revision Task
Creating both types of revision tasks is straightforward.
Writing Task to Revise: you'll need to specify the  writing task you want students to revise. Keep in mind that students can only revise work that's already been submitted in response to a writing task, and that each writing task can only be revised once – only writing tasks that haven't been revised will be accessible here. 
Create a Revision Plan: check this box if you want students to prepare a revision plan and share it with you. You'll be asked to specify the due date and you'll be able to add instructional text to guide their work.
Revise and Resubmit: check this box if you want students to submit a revision of the writing task. The revision will automatically be the same submission type as the writing task, either a "compose in Eli" or "upload file" task. Checking this box will prompt you to select a due date and to add instructions.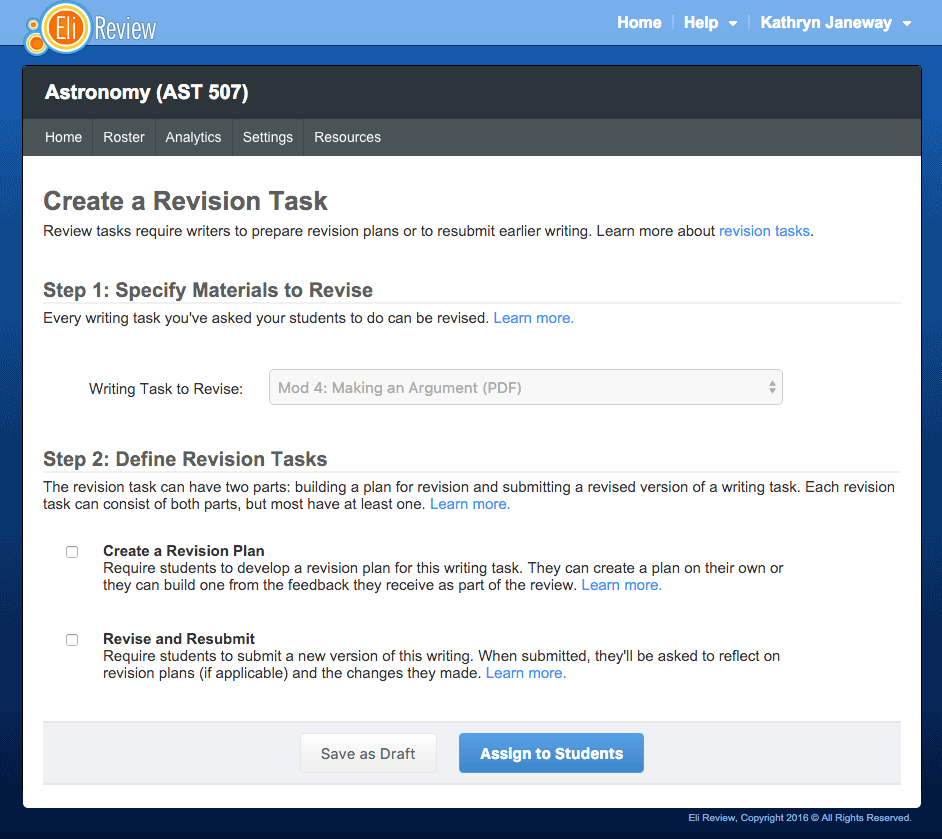 Note: A revision task can consist of either a revision plan or a revise and resubmit task, or it can have both, but it must have at least one option selected. before you can assign the task to students.
Editing a revision task: as with writing and review tasks, you'll be able to edit a revision task until students have begun submitting their work, after which you can only extend the due dates. Revision tasks are different, though, in that if you created a revision task with only a revision plan enabled, you can later add a revise & resubmit task. The same is not true if you created a revise and resubmit – once revisions have started, you cannot ask students to create revision plans.
---
How Revision Plans Work
The revision plan is a document compiled by writers that offers a clear plan of action for revising a text. Writers can choose to add comments they received in a review to their plans or they can develop strategies from scratch. This artifact will not only give students a very clear, actionable plan for composing a revision, but will also give you insight into that student's plan and whether or not they've developed a sound strategy. Likewise, if a writer adds feedback to their plan that they received in a review, their reviewer will get credit for having written feedback so helpful that the writer intends to address it in revision.

With a revision plan, writers can:
add comments received on any review to any plan
rearrange comments they've added  to signify priority or sequence
clip the comments they received to include only relevant portions
add notes to comments to provide further detail or plans
add free-form notes to address issues not raised by reviewers but still needing attention
print their plans for note-taking during revision or to share with instructors
Writers can create a revision plan at any time, even without you requiring one by creating a revision task. However, if you create a revision task, students will be asked to share their revision plan by the specified deadline. Once a student shares their revision plan, you'll be able to view it in the revision report.
For a detailed look at the student experience of creating a revision plan, consult the Student User Guide.
---
How Revise and Resubmit Tasks Work
For students, revise and resubmit tasks work much like writing tasks. They are given instructions, a due date, and tools to submit their writing based on the submission method of the original writing task (if the original task asked students to "compose in Eli," the revision task will ask them to respond the same way).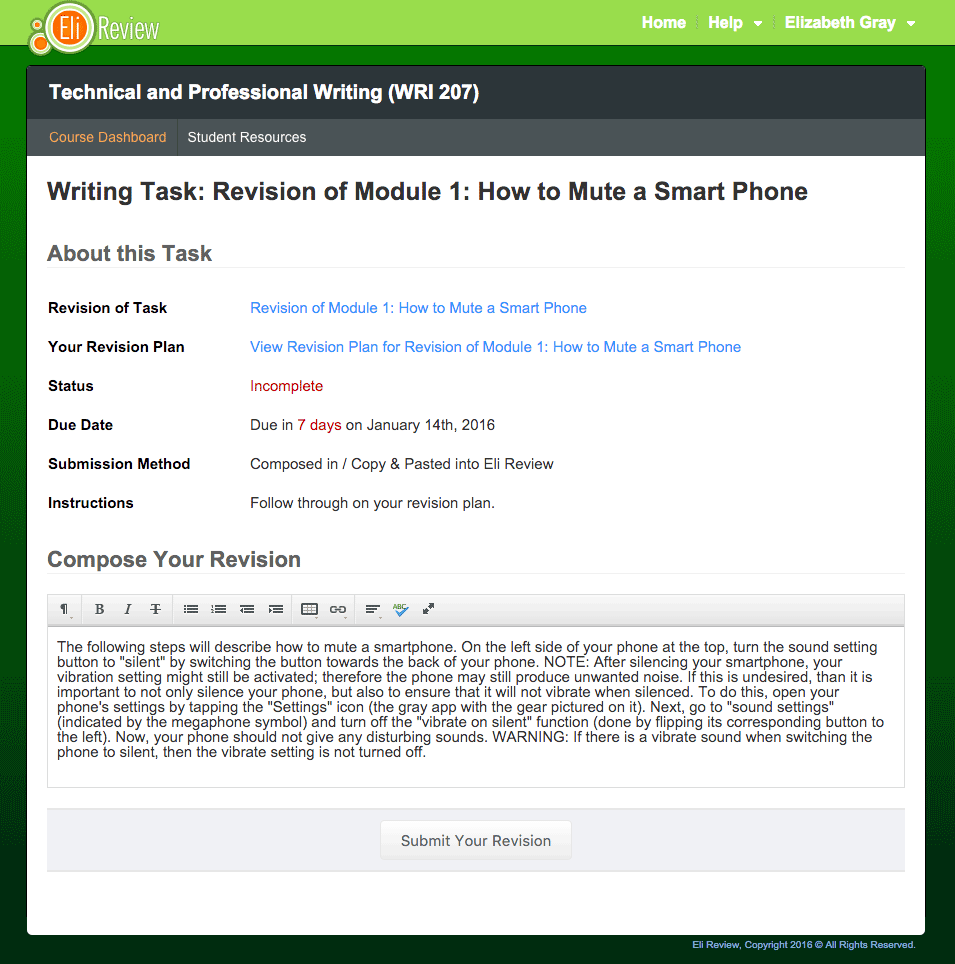 There are some important distinctions between revise and resubmit tasks and writing tasks:
Students will see links to any tasks that preceded this revision that might help them, including:

the original writing task
all reviews of the original writing task
the revision plan, if available

If the original writing task was composed or pasted into Eli, the composing space will be pre-loaded with the original text, which the student may revise or they can delete it and paste a new version from an external source (Microsoft Word document, RTF, etc).
Unlike revision plans, which students can create on their own without you asking them to prepare one, revise and resubmit tasks won't be available unless you specifically create one using the "Create a Revision Task" feature.
Revise and resubmit tasks are technically the end of the write-review-revise cycle, with a writing task having gone through each stage of evolution. However, because Eli sees revise and resubmit tasks as a special kind of writing task, the writing students submit as revisions can be reviewed, so the cycle can continue as long as your learning goals require.
For a detailed look at the student experience of submitting a revision, consult the Student User Guide.
---
Student Submissions – Using Revision Reports
The data reports for a revision task aren't nearly as complicated as those for revision tasks, but the data available to you during and after a revision is still very powerful.
Review Task Overview Display
The primary task display, where you're taken after you create a revision task but can also access from your course dashboard, gives you a report similar to writing and review tasks.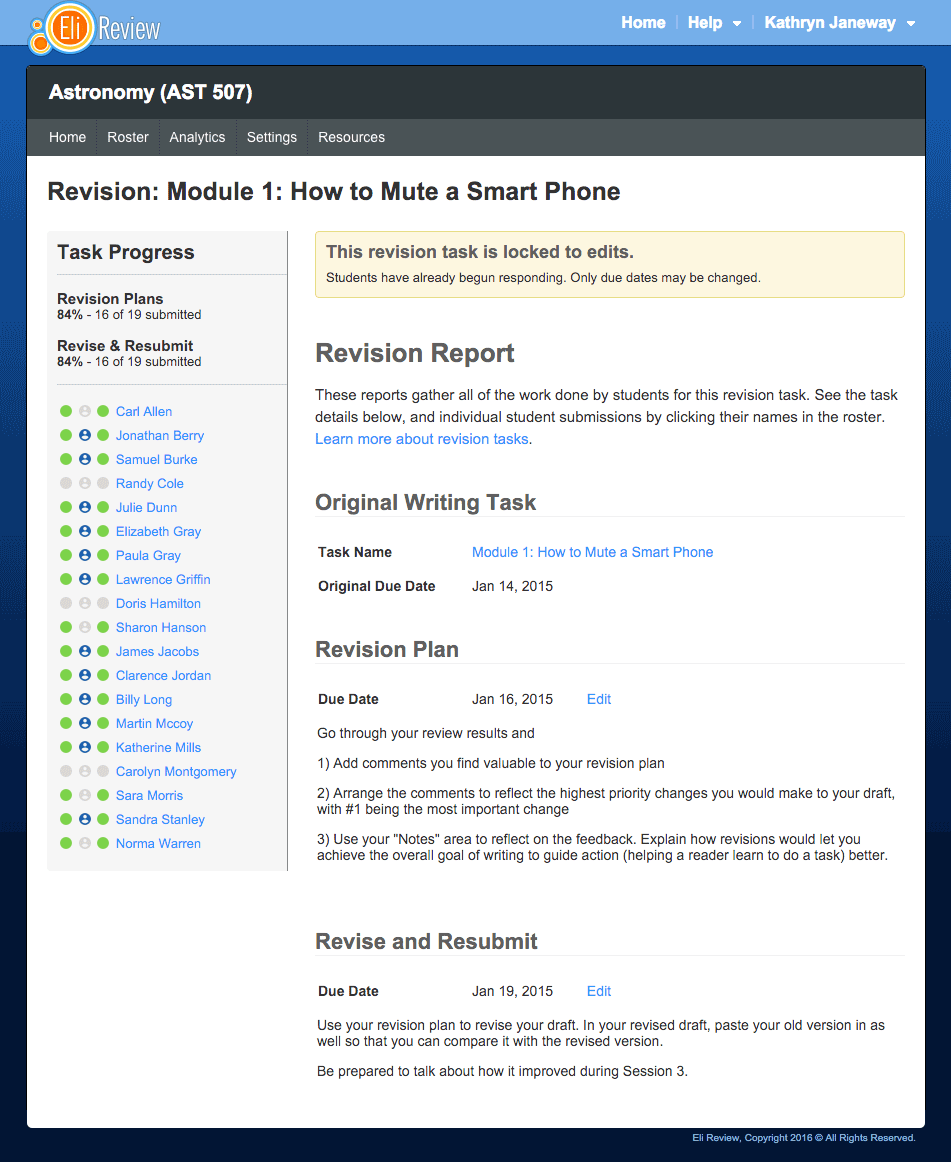 Here, you'll find:
From here, you can click any student name to open the individual student report.
Individual Student Report
The individual student revision report is often called the "cycle" display in Eli. Because revision comes at the end of a write-review-revise cycle, this is the view where all of the artifacts of that cycle come together.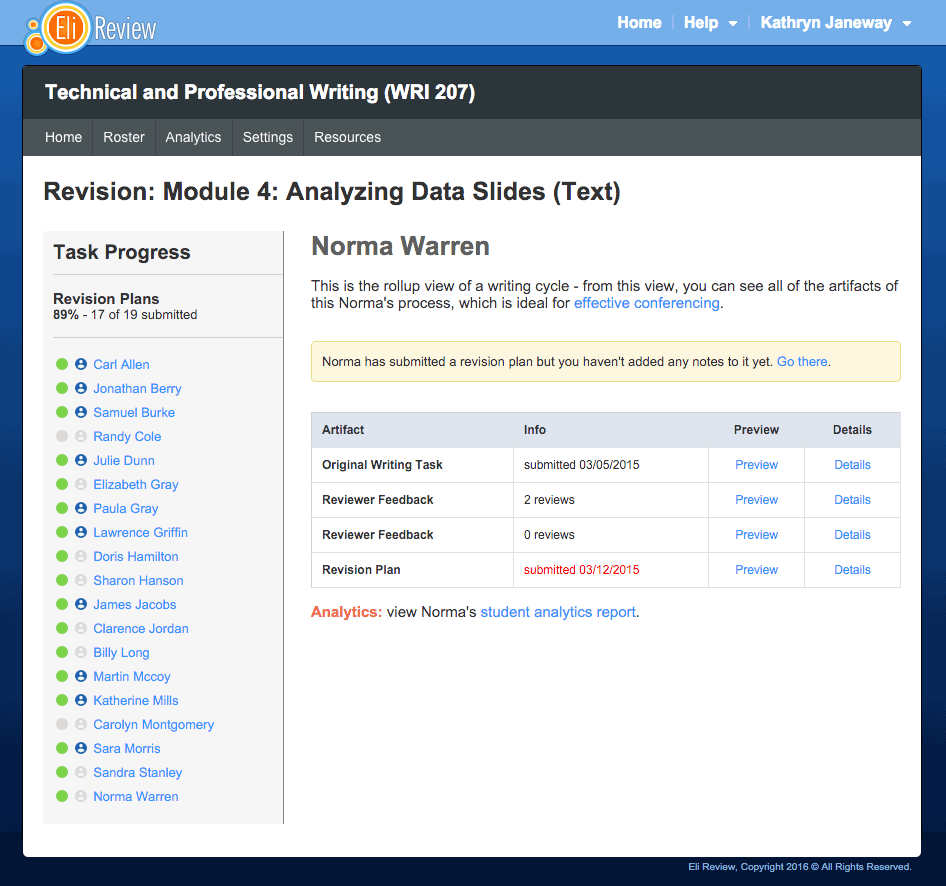 For each student writer, this view will display:
The links to the revision plan and the revised writing are obviously the most pertinent, but it is here that you can see all of the artifacts of a student's movement through the entire cycle, including being able to see both the original and the revision with just two clicks.
Student Revision Plans
Once the student has shared their revision plan with you, the Revision Plan link in the individual student report will open that student's plan.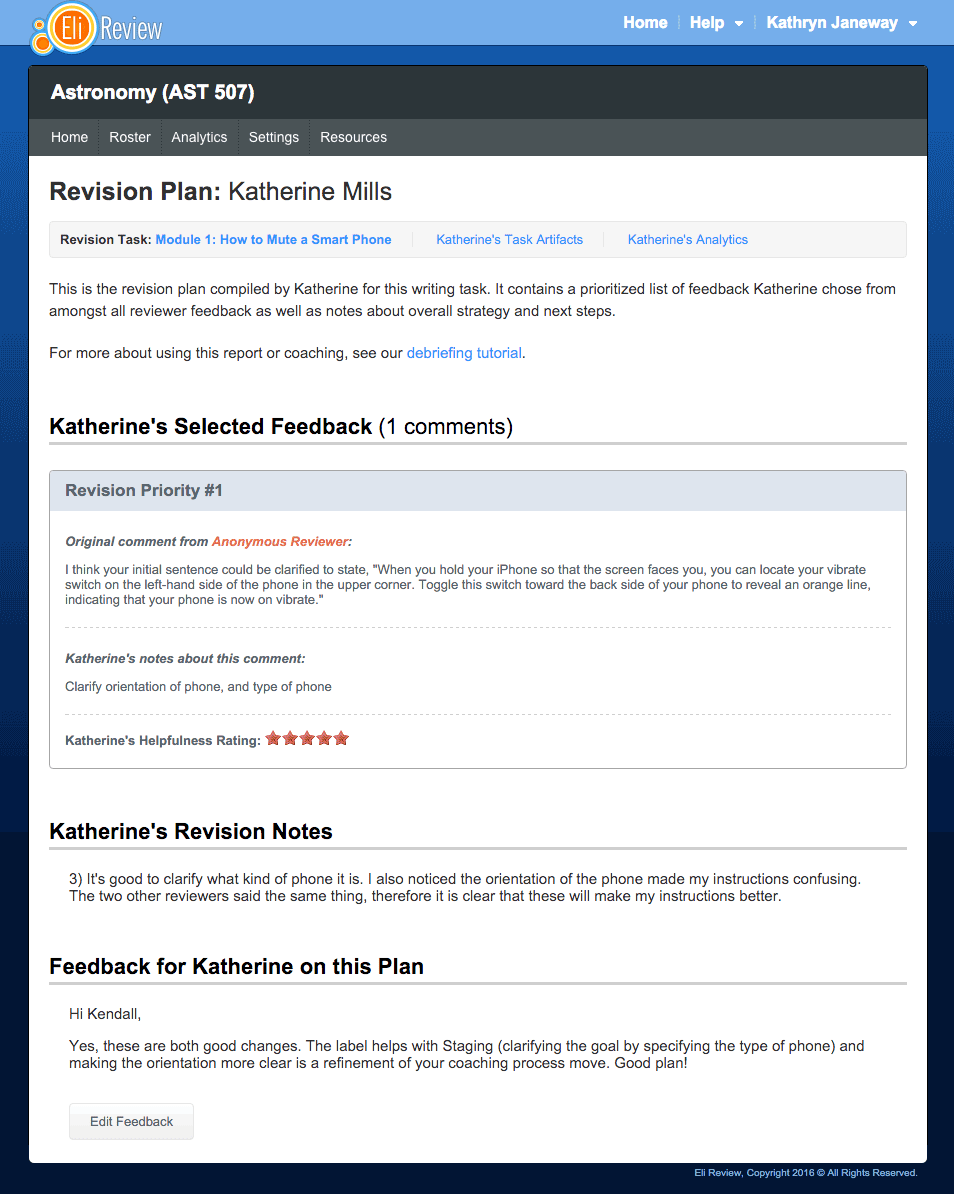 From here, you'll be able to see: 

In addition to seeing the student's plan, you can leave feedback for the student. The "Feedback for Student" section gives you a space where you can compose a response to the student, offering advice on prioritization, if they addressed all of their reviewer concerns, etc.  You can revisit the report and see any changes the student has made.
Printing – the revision plan has also been specially designed for printing so that it will transfer to paper to make for easy writer conferences when the internet isn't available.
Using Data to Coach Revision
For details about the student experience, see the Revision Plan section of the Student User Guide.