Eli makes it easy to reuse tasks you've already created, saving you time.
To access your repository and load one of the tasks it contains, use the "Create Task" options from your course dashboard and then look for the "Load from Task Library" option in the upper right corner:

Clicking the "Load from Task Library" button will take you to the repository browser for that task type. There you'll find a list of all the tasks: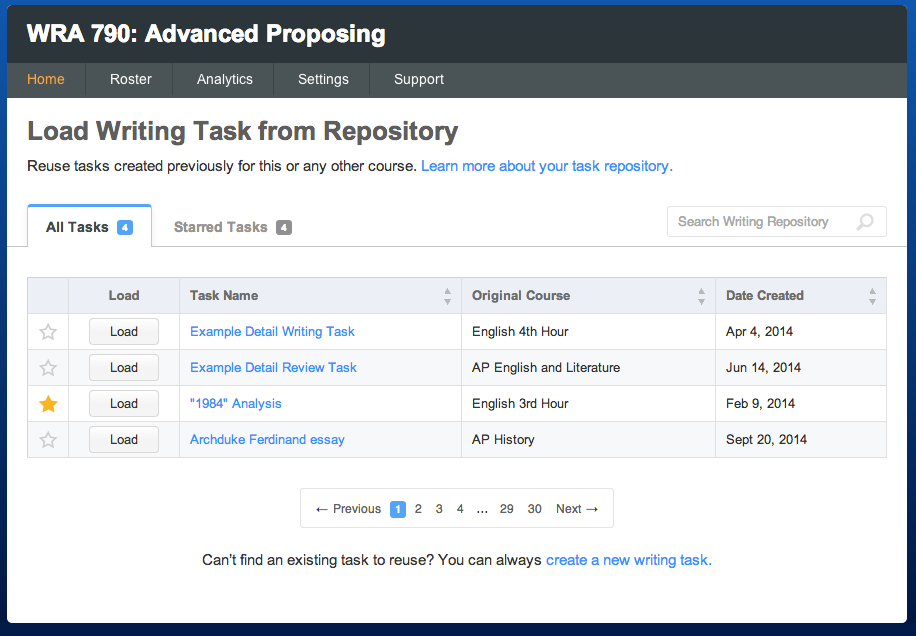 Because the list of tasks can grow pretty quickly (especially if you're teaching multiple courses), the repository browser gives you a number of options for quickly locating old tasks:
sortable columns – easily sort your repository by task names, course title, or date created
keyword search – find previous tasks based on keywords in either the task name or course title
favorites – you can "star" your favorite tasks, and they will appear in the "Starred" tab
From your task list, you have two options – you can access the task details, or you can load the task into your course.
Task details – You may wish to review the details of a given task before moving forward. To do that, just click on the name of that task and you'll be taken to the task detail view.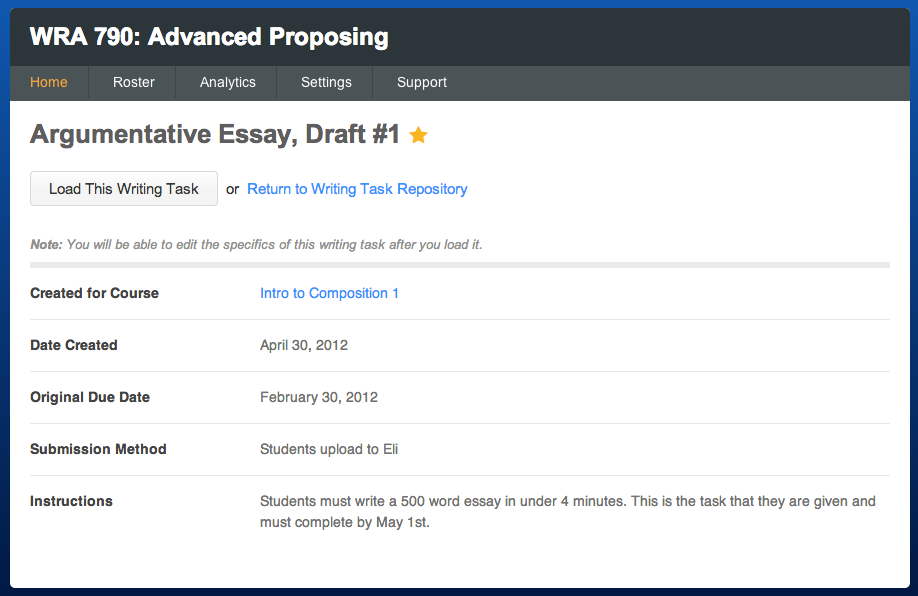 Loading Tasks: Once you've decided that you want to reuse a particular task, just click the "Load" button in the repository or the "Load This Task" button from the task detail view. This will open either the Create a Writing Task display or the Create a Review Task display (depending on the type of task you chose to load) with the details of the loaded task pre-entered.
Once the details of a task have been loaded, you're free to make changes to any of the details for that task. However, you will require you to re-enter some important that can't be re-used:
Due dates (if the original due date has already expired)
Review materials (because writing tasks may differ between courses)
Review groups (if not loaded in the same course)
Once you've editing the details, you can save your reused task as a draft or assign to students, just like you would with any  new task. It will also be available as a new task in your repository that you'll be able to reuse for other courses.