Writing Tasks are the most straightforward student activity in Eli Review. They are first stage in the Write – Review – Revise cycle, where the purpose is to submit writing to receive feedback from classmates.
---
Overview – What Are Writing Tasks?
An instructor assigns a piece of writing by describing what they want written and assigning a due date. Writing Tasks come at the beginning of the write-review-revise cycle; what students submit for a writing task will go through both a review and revision.
---
Submitting a Writing Task
The Course Home Page contains a list of all tasks. The most recent tasks will be featured in the "Active Tasks" section at the top while completed tasks can be found in the "Archived Tasks" section near the bottom of the home page. Clicking the name of an incomplete writing task will open the "Submit Writing Task" feature.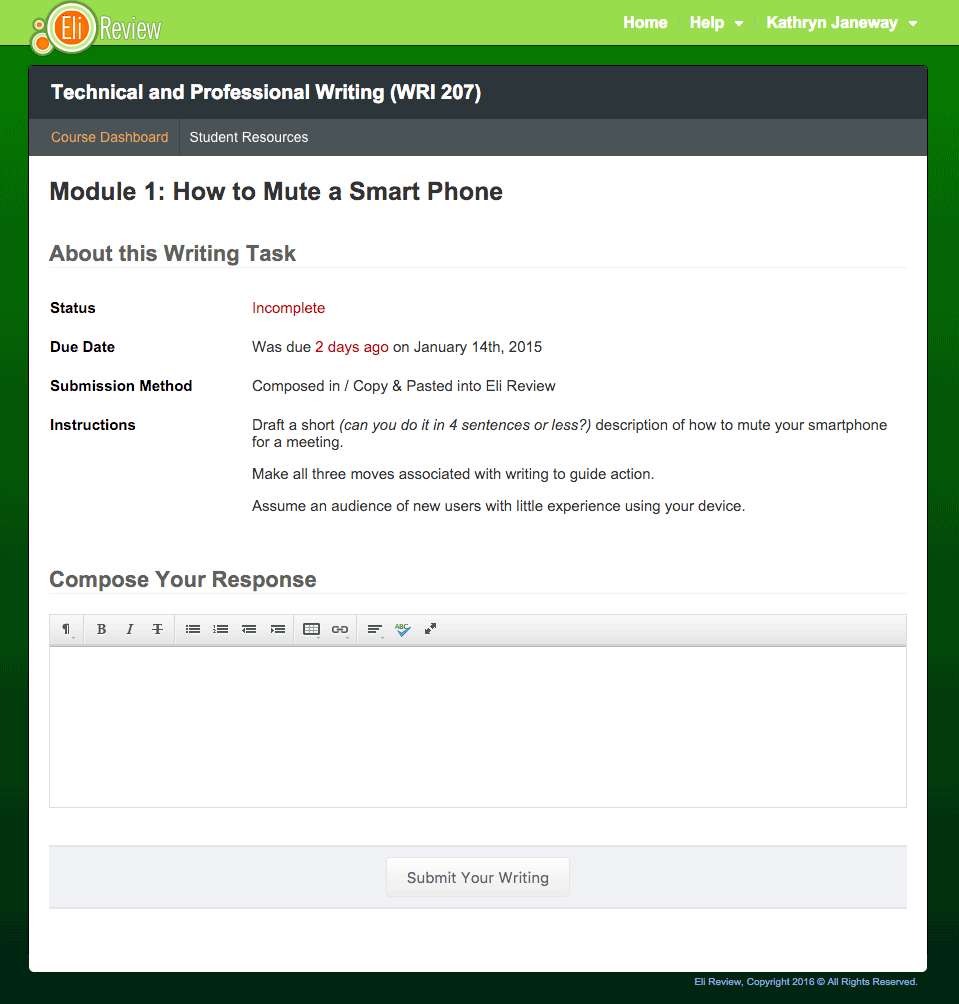 Submission Methods
Instructors can choose from two different methods of submitting writing tasks.
Compose in Eli: in this case, an instructor wants students to write in the composing space inside Eli. Students will be given a large WYSIWYG editor where they can either compose a response or where they can paste writing copied from another word processing application (Google Docs, Microsoft Word, etc).
Upload to Eli: this submission type asks students to upload a file saved on their computer to Eli. Clicking the "Upload a File" button will open a window asking students to find a file on their computer. Once the student identifies a file, that file will be uploaded to Eli and the task complete.
Files uploaded to Eli must conform to these rules:
Resubmitting
Students can resubmit a writing task up until the due date specified by the instructor. In some cases, instructors may choose to allow late submissions, which will allow students to submit their work at any time.
If students resubmit a writing task, the previous version of that task is not saved, but is discarded in favor of the new version.
---
Revision Plans and Related Tasks
Revision Plans – students can begin preparing a revision plan immediately after a writing task has been submitted. Revision plans work best when they incorporate feedback from the review process, but writers can begin planning to revise a writing task at any time. Learn more about revision plans.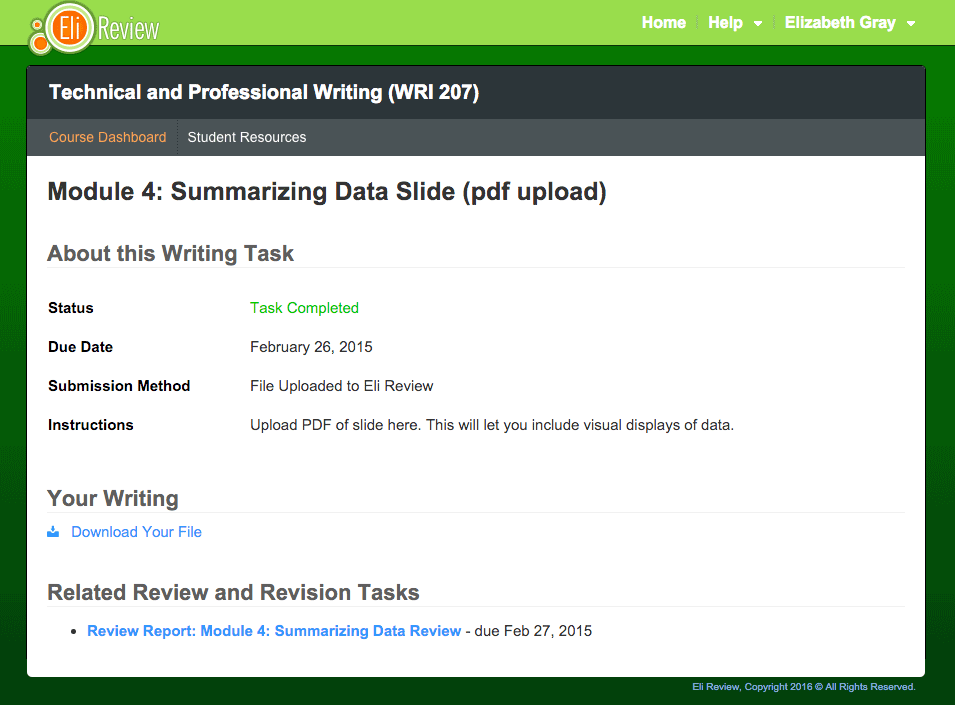 Related Tasks – once a student has submitted their writing, the writing task display will show other tasks related to it, particularly review tasks and revision tasks, making it easy to navigate all of the tasks in a write-review-revise cycle.