Eli Review's review comment digest allows instructors to download all comments exchanged by students as a CSV file that can be searched and sorted and transformed in any number of interesting ways.
One very simple transformation is creating a word cloud. There are many free word cloud tools online, but one that we recommend is wordle.net, which is free and has many options for transforming the final image.
We'll talk about why word clouds can be useful shortly, but the simple steps for creating a word cloud are:
Download a comment digest (from a single review or from the entire course)
Open the downloaded CSV in your software of choice (i.e. Microsoft Excel)
Select the "Comment Text" column and copy each row in that column
Go to wordle.net and paste the copied comment text into the box
Choose a style or hit "random style" until you find something you like
You can even try creating a wordle right now: click the button below to create a wordle cloud using data from our sample comment digest:
Below you can see some wordle visualizations created by our team for use in the courses they're currently teaching along with explanations of what they reveal and how they came in useful with students.
---
Bill Hart-Davidson
Word clouds are not any more (or less) useful than other visualizations Eli Review offers [e.g. trend data]. But they do help to reveal whether or not students are using metadiscourse – writing about writing – in ways that are on track with course learning goals.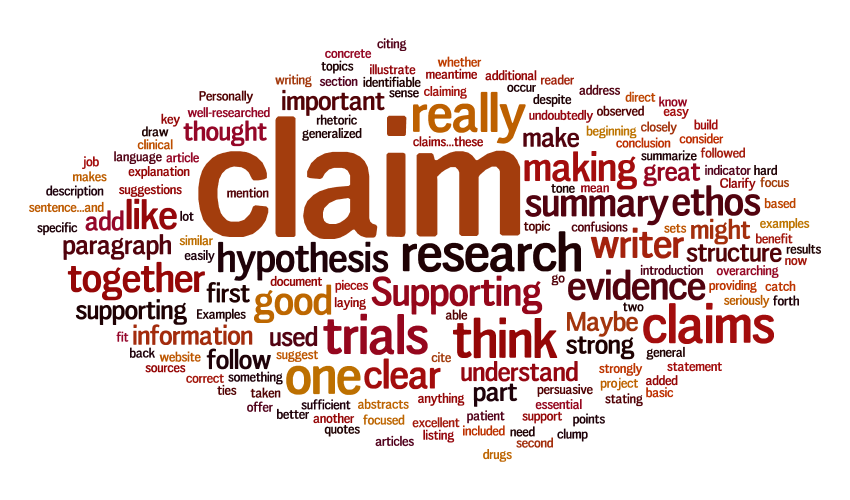 In this example generated from a review in my Science Writing course, I could see that students were learning to talk to each other about the signature moves in scientific communication. I used the wordle visualization after the review to show them  that "See! You are saying the smart things!"
From a meta-metadiscourse perspective, the prominence of "think" and "good" and "really" here are interpersonal hedge moves that we see when a group is learning to give helpful feedback while preserving social comity. This is what reviewers do 🙂
---
Melissa Meeks
After seeing Bill's Wordle, I made one for my hybrid professional writing class to figure out what was happening in their metadiscourse. For the past two weeks, we've been experimenting with using #hashtags in comments. (Thanks to Mike Edwards at Washington State University for this idea.)  In the contextual comment prompt, I supply the hashtags that indicate my (too many) priorities.
This is highly standardized letter, which means it is the perfect place for the writer to make a good impression with a few well-placed details. Offer at least 2 comments that help the writer exceed the minimum requirements of this letter with a memorable, pitch-perfect style.

Use #tone to help the writer know how to improve the way they are coming across.
Use #special to indicate suggestions for improving personalization.
Use #wordy for suggestions about being concise.
Use #grammar for pointing out errors.
Reviewers choose among them or to ignore them, but they are more aware of their choices because of the hashtags; plus, the hashtags provide a strong cue to writers about what needs to change.
In the first week, a handful of comments included the hashtag, so I was particularly interested in whether more reviewers would use them this week. With about 2 minutes worth of work making the Wordle, I knew reviewers had focused their comments appropriately.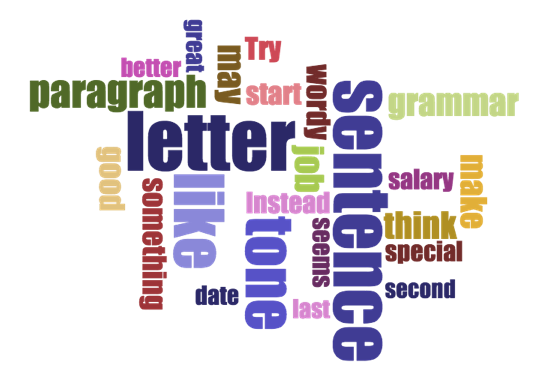 As part of the debriefing report I send students each week, I included the Wordle and this analysis:
This visualization of the most popular 25 words in comments tells me five things:

You're using the #hashtags! Tone, special, grammar, and wordy all make this list. Also, tone is the largest, which matches my instructional goals for this week.
You're hedging: seems, something, may, think. Hedging is a way of blunting the edge of criticism, a way of acknowledging what you don't know to be absolutely true. Hedging is one of the markers of scientific writing and of the early stages of collaborative relationships. Good!
You're making suggestions: try, instead, better.
You're thinking about sequence and organization: second, last, start.
You're #praising: good, like, great.
Being aware and making students aware that the themes I care about are bubbling up in their comments help us all gain confidence in the effectiveness of peer learning.
---
Have you made wordle (or other word cloud) based on reviewer feedback? Let us know! Post them on our Facebook page or post them to Twitter and mention us @elireview!