It's rare to see impressive gains year-over-year on standardized tests. Cohorts of students can be quite different; learning is gradual; and assessments focus on a narrow set of issues.
But from 2014-2015, we saw big changes in one classroom with regard to writing for the ACT, and these gains are truly impressive: all but one student earned 7 or higher on the writing portion. In fact, the average score moved from 8.2 to 9.8, which is well above proficient; four years ago, the average was 6.
This continual improvement in writing instruction also had a spillover effect in English and Reading this year:

Of these results, an administrator observed:
Yes, these are different kids. Yes, it is a standardized test that we don't even take any more.  Still, there is really nothing bad in these numbers, and I have to conclude that you guys are the reason for these gains [since the other areas did not show the same growth].
In the measured language of a building principal, this is excitement.
These are the gains that are a function of pedagogical changes focused on peer learning in Michael Schanhals's 11th grade English-Language Arts classes at North Muskogen High School in Michigan. As an early adopter of Eli Review, Schanhals worked with Jeff Grabill, Bill Hart-Davidson, and Mike McLeod to make rapid feedback cycles a hallmark of his daily class activities.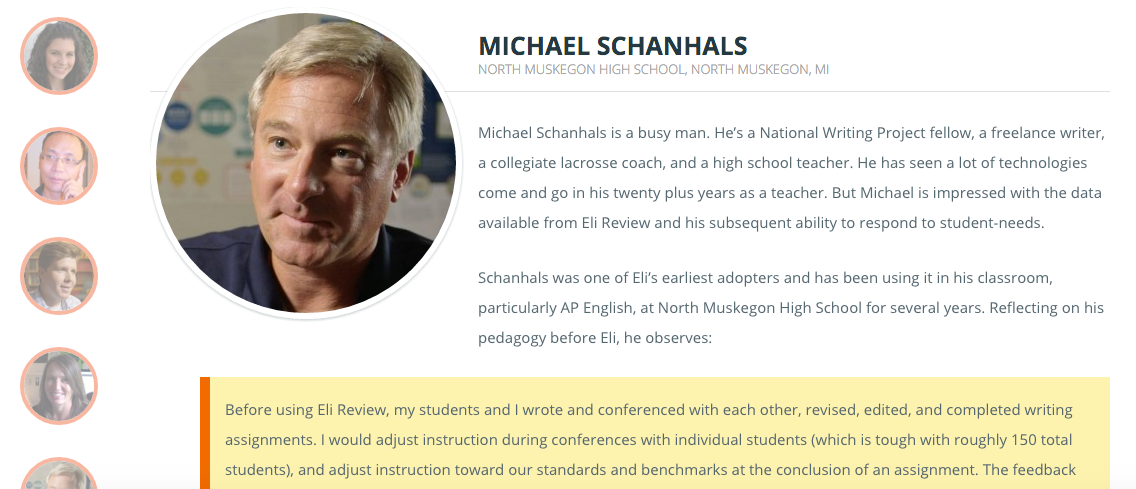 In 2015, Schanhals designed and shared his materials for preparing students to write argumentative essays for the ACT. Schanhals's curriculum taught students to develop paragraphs that clearly take a stand, acknowledge counterarguments, and include qualifiers. Then, reviewers gave feedback on whether they could detect those moves in writers' drafts. In particular, reviewers looked in the drafts for a list of the most common words that qualify claims; the presence of the word but or nevertheless indicates that writers are thinking about how to acknowledge the limits of their arguments. Schanhals also helped students practice evaluating each other using the ACT's rubric, increasing their familiarity with the different criteria. Students practiced executing the argument moves in their own work, and they practiced evaluating others' executions using the ACT's criteria. As the College Ready results show, the constant focus on the primary learning goals for argumentative writing helped more students develop competence.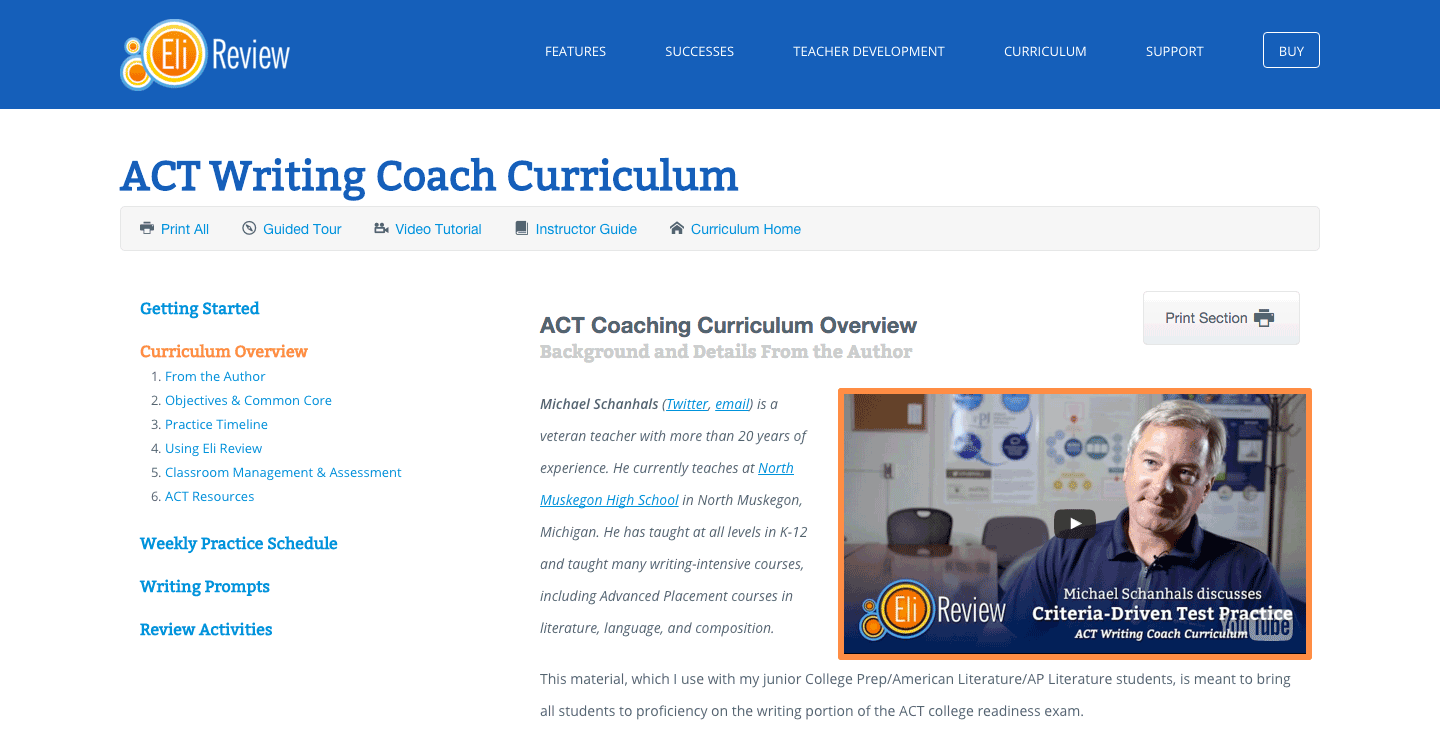 Schanhals's innovation wasn't so much what he taught; his innovation was how often his students practiced. He was able to make peer learning a regular part of his classes for 8 weeks. He prepped students for writing practice on Tuesdays, assign timed practice Wednesdays, and conducted peer reviews on Thursdays. Because of Eli, he knew on Thursday what reviewers noticed about writers' strengths and weaknesses. He talked them that very day about how the trends in their drafts and comments would affect his lesson plans for the next week.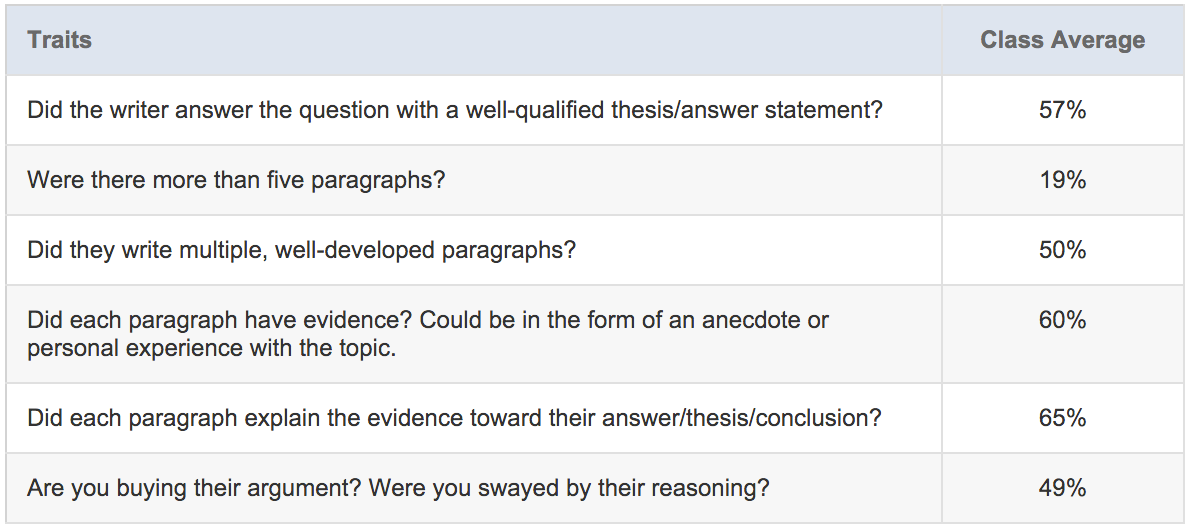 Schanhals aligned his class activities to high-impact learning goals that also met the expectations of the ACT essay. He developed a clear scaffold for teaching students to write drafts that met the criteria, and he developed a clear scaffold for teaching students to notice whether drafts met those criteria. That's excellent teaching.
Eli Review helped Schanhals do more of what he knows works: Get students to practice. Eli made it possible for nearly 100 students to write and review every week for 8 weeks without burying him under the paper load. Eli made it easier for Schanhals to make evidence-based decisions about how to provide just-in-time coaching because he could see what was happening in review.
Students' practice—coached by an excellent teacher doing the usual things teachers do with an unusual amount of visibility into the process—certainly paid off in impressive gains in college readiness.
Want to learn more about using Eli Review to help students prepare for high-stakes timed writing on the ACT or the SAT? Fill out the form, and we'll get back to you shortly.