Eli Review is a proud sponsor of GSOLE 2021.
Intersession Invitation for Engagement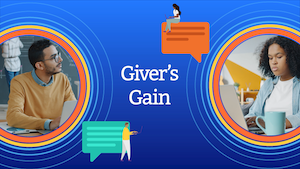 We'd rather show than tell you how giver's gain works.
Login or create an account at app.elireview.com
Select the Student Dashboard.
In the box, type (without spaces):  fiesta568maple then click Join Course
Click on the title of course GSOLE 2021 Intersession Activity
In the Course Dashboard, click on the writing task title to begin.
Learn More about using Eli Review in your course.
Giver's Gain Resources
Describe-evaluate-suggest – short explanation and video to explain the three parts of a helpful comment to students
Giver's Gain – a Dr. Seuss poem, a teacher interview, and a bibliography
Reading the room in online peer feedback — how Eli's features support teaching feedback for giver's gain
Improving Outcomes: Disciplinary Writing, Local Assessment, and the Aim of Fairness — Bill & Melissa's chapter on Feedback Analytics where we argue that a writing class is only fair if there's enough practice for the weakest reviewers to improve, and we describe the metrics necessary to chart students' progress.
GSOLE 2021 presenters who are Eli Users
Jesse Borgman, Western Michigan University and Arizona State University
Angela Laflen, CSU-Sacramento
Casey McArdle, Michigan State University
Catrina Mitchum and Shelley Rodrigo, University of Arizona
working on an empirical study of reviewers' comments