We're starting 2018 off with a bang – a complete overhaul to how Eli Review handles files. Our goal with all of these new developments is to improve the experience of working done outside of our app.
Whether students are writing inside Word, creating image-heavy PDFs, or they're spent a lot of time in Google Docs, these updates should make the experience of sharing and receiving feedback on their writing much smoother.
Note: these changes reference the different submission options instructors can choose when setting up a writing task. Those options impact how reviewers respond with comments. To learn about the differences between submitting an uploaded file vs composing in Eli, see the instructor guide.
Uploading Files
The biggest update in this new release changes how students respond to writing tasks where they are prompted to upload a file. Our new uploading tools will make uploading files from a computer faster and easier, as well as adding the option to find writing in other places.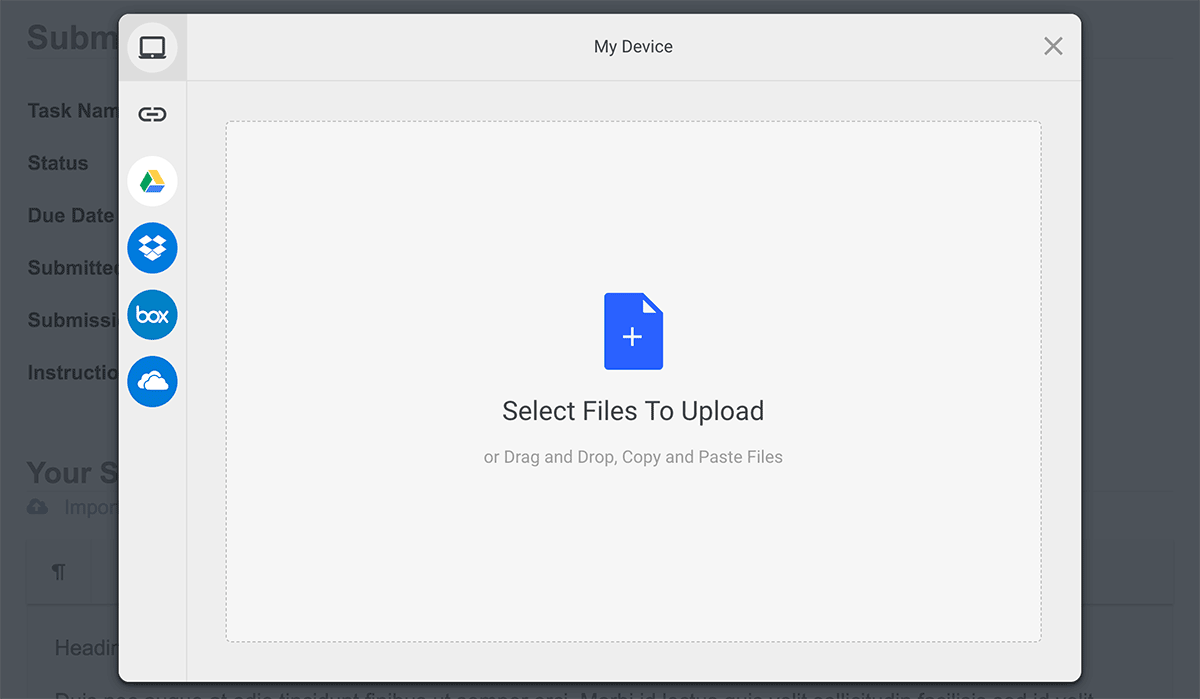 Writers can now drag and drop files right from their computers from their computer into the browser. They'll also see faster upload speeds and clearer messages to help writers when something goes wrong with their uploads.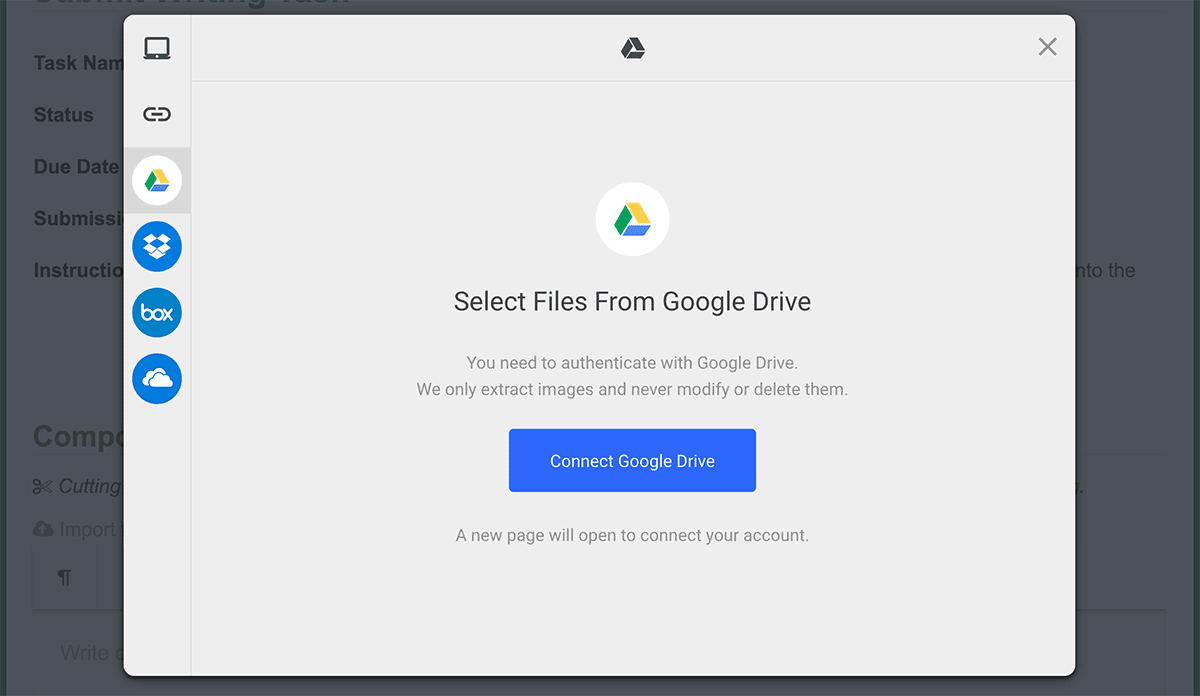 The biggest change, however, is Eli Review now integrates with cloud storage services like Dropbox, Box, Microsoft OneDrive, and Google Drive. Writers can now connect to their accounts in these services, find files they've completed there, and submit them, all in just a few clicks and without leaving Eli Review.
Note: these changes do not impact how reviewers make comments when giving feedback on uploaded files. See the "Previewing Files" update for more details.
Importing Text
When students respond to a writing task where they've been asked to "compose in Eli", they used to have two choices: compose new text inside Eli's text editor, or copy writing they'd done elsewhere and paste it into ELi's editor. Now, there's a new option: importing text from a file or from a cloud-based platform like Google Drive.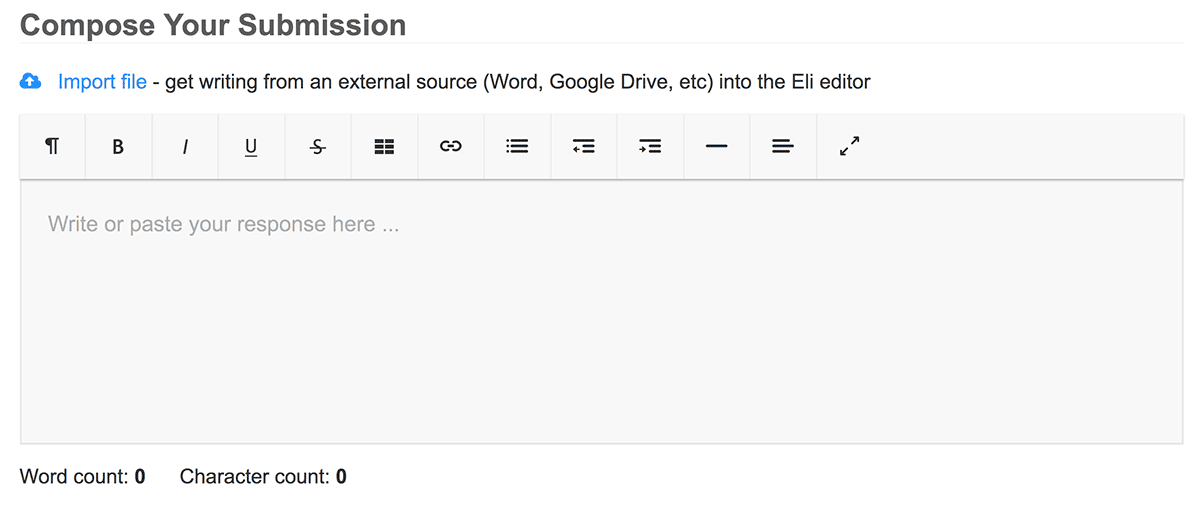 Importing a file, rather than copying and pasting, should preserving the writer's original formatting better than copying and pasting. Writers should still check the formatting of their text before submitting it, just to be sure that everything is still correct, but the result should be more consistently accurate.
Previewing Files
Eli Review now makes it easier to see a file without requiring it to be downloaded. Reviewers and instructors can still download files as they wish, but Eli will now display a preview of many types of files directly inside the browser window.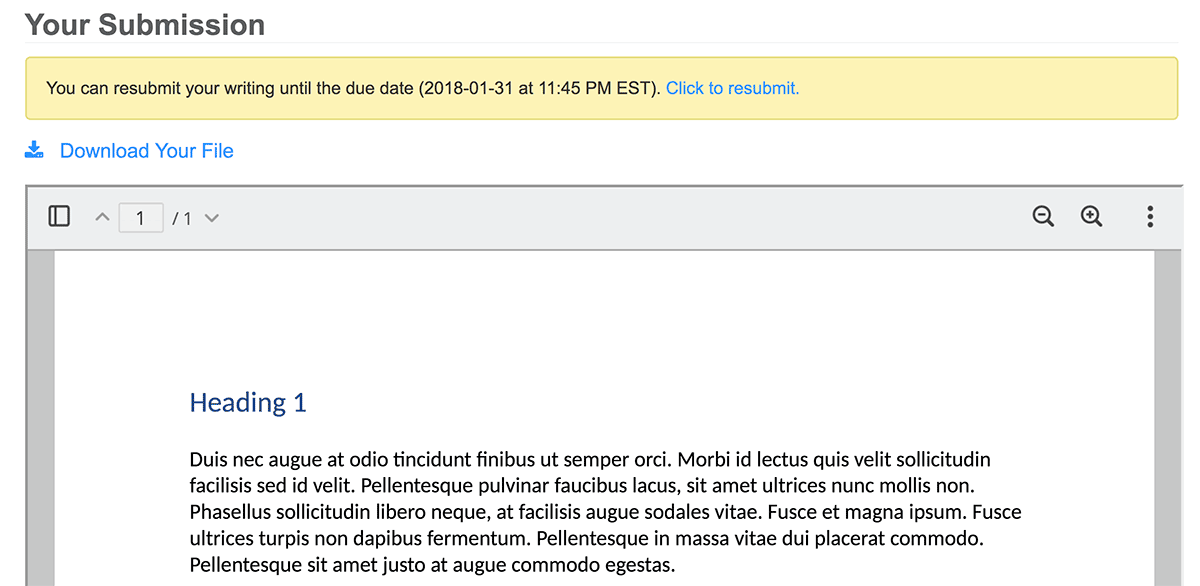 Reviewers can see the file right next to their feedback tools, and instructors can see student submissions without having to download each file individually. Everything in one place.
About comments: the addition of the file preview does not change how reviewers make comments about files uploaded to Eli. Contextual comments are still only possible with writing submissions from "compose in Eli" tasks.

About older uploads: file previews are only available for files uploaded after these changes were released. Older uploads can still be downloaded but they will not have a preview.
Downloading Files
Finally, we're making it easier for instructors to download student writing. It's always been possible to download individual submissions, but now instructors can download all student submissions to a writing task with a single click.

The new "Download Submissions" option inside each writing task will produce a ZIP file containing each student submission, all properly named to make it quick and easy to tell them apart.
Additionally, we've added a "Download All Submissions" option to the course downloads section. With a single click, you can download every writing submission students have made for your entire course, all of them in a single ZIP file that you can keep for your archives or open to see all of their writing in a single place. Your data, your way.
Thank you, as always, for the continued feedback on how we can improve the user experience of Eli Review. The stories of how you use the system, from your frustrations to your inventive hacks, help us make improvements that benefit everyone.