We at Eli Review are excited to announce our first integration with a learning management system – specifically, at Michigan State University with their LMS, Desire2Learn! With this integration, writing, review, and revision activities still take place inside the Eli Review app, but setup through D2L makes signing in and enrolling students incredibly easy.
Here are the advantages of this integration for students and instructors:
Instant Course Creation: In the past, instructors created Eli courses and then requested special codes through MSU IT in order to get access to MSU's pool of subscriptions. That process is eliminated entirely by setting up an Eli Review courses through D2L.
Easy Sign up: Signing and setting up is even easier:

New users: create your Eli Review account from inside D2L with just a couple of clicks.
Existing users: connect your existing Eli account to your D2L account from inside D2L.

Easier Enrollment for Students: If your students sign up and join Eli through D2L, you can skip inviting students to join your course by sharing your roster code.
Flexible Sign In:Once you've created your Eli course through D2L, you can access it either through D2L or by signing in through app.elireview.com.  Eli will remember that the course was created for MSU and will give all of your students access for free.
You can see complete details of the Eli Review and MSU D2L integration, but below you'll find a video of how exactly to add Eli Review to your course in D2L:
Sign in to D2L, and click the name of the course in which you want to use Eli.
In the course, find the Content option in the upper navigation.
On the left side of the screen, use the "Add a Module" option to create a new learning module (name it as you see fit).
Inside the new module, click the "Add Existing Activities" button and find "External Learning Tools."
Find the "Eli Review" option in the "External Learning Tools" menu.
Once you've added Eli Review, click the drop-down arrow and select "Edit properties in-place." Check "Open as External Resource." Save settings.
Once those steps are complete, your course is up and running in Eli Review, and you can access that course either by logging in through D2L or Eli Review.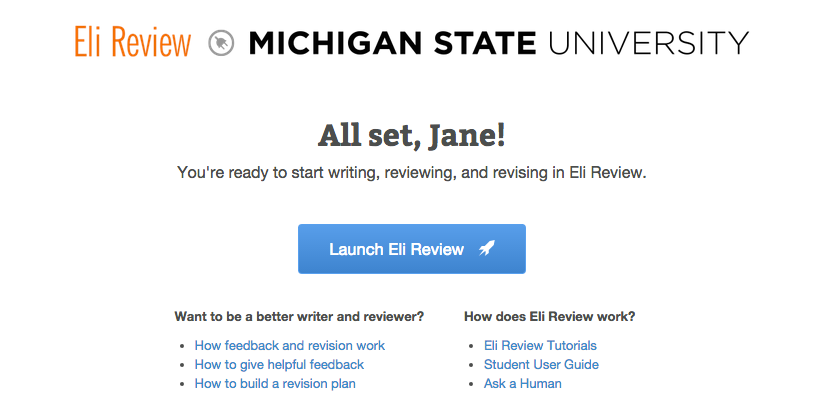 Once your course is up and running in Eli Review, you can begin designing and assigning writing, review, and revision tasks like you always have. Eli Review has extensive resources for designing effective tasks and coaching students to improve.
How Eli Review Works: a general overview of what Eli does and how it works.
Instructor Resources: learn about theory, get advice on effective task designs, illustrated tutorials of how to use Eli, and more.
Student Resources: links you can share with students to help prime them on the importance of feedback and revision as well as an introduction to Eli and how it works.
[resource-table]