Enrolling and Managing Students
Eli was designed to make getting students signed up and participating in your courses quick and easy. That work is accomplished through the Roster in each course. Keep in mind that you must create your course before you can begin enrolling students.
---
Using LMS Integration
If your campus has activated an integration with Eli Review your LMS (Blackboard, Brightspace D2L, Canvas, etc), you will need to follow your campus's instructions for adding Eli Review as an external tool. Then, you'll launch your course, and students will enroll by clicking on the Eli Review link your course. They will NOT need a course code to enroll in your course.
Accessing the Course Roster
The roster for your course is accessible from every display in that course. Simply look for the "Roster" link in the navigation options under the course title.

Clicking this link will take you to the course roster, where you'll be able to manage student enrollment.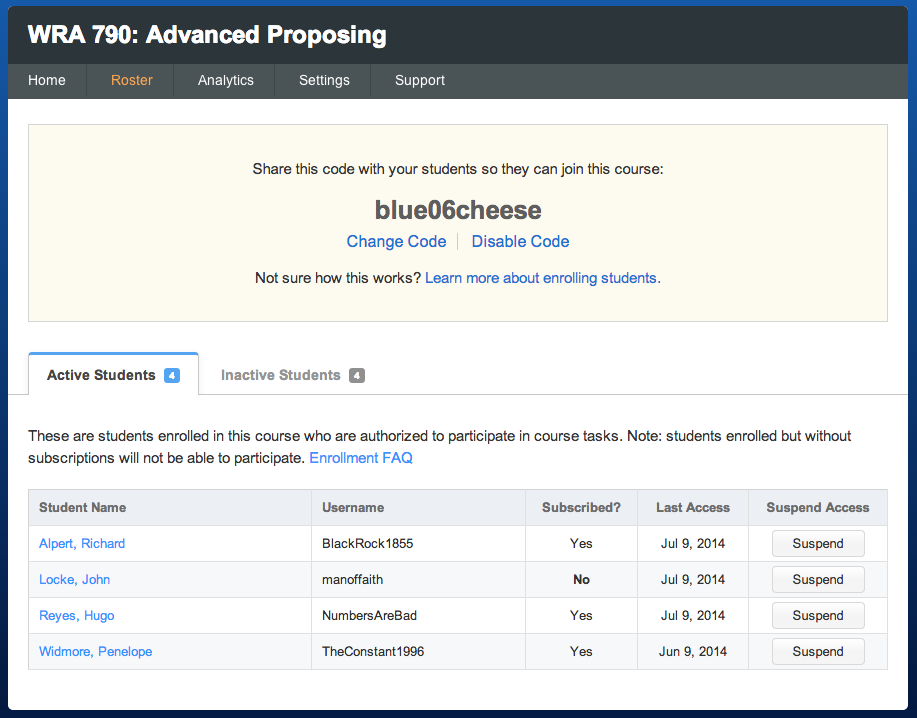 There are three main sections to the roster – the course code and two sections that let you manage your students – the active students list, and the inactive students list.
---
Students Enroll with Your Course Code
Once you click on the "Roster" link in your course navigation, you'll see two words separated by three numbers in large, bold text. This is your Course Code. Any user who enters this code on their Join a Course box on the student dashboard will automatically be enrolled in your course. That's it!

Share this code with all of the students you want to join the course – the same code will work for every user. You can write the code on your whiteboard, send it in an email, print it on your syllabus – however you want to proceed.
You have two options when it comes to your course code:
Change Code – use this option to generate a new code for your course. This is particularly helpful if you get a combination of words that you find disagreeable (we try to keep our dictionary clean, but things happen).
Disable Code – use this option if you no longer wish to allow new users to join your course. Using this option will make any previous course codes obsolete. You'll have the option to re-enable access, but you'll be given a new code.
---
Managing Student Access
You will find a set of two tabs underneath the course code that display information about students currently enrolled in your course. By default, you'll see a list of all of your Active Students – these are the students that are allowed to participate in tasks as you create them.
All active students have a "Suspend" button next to their names. This option gives you control over how students access your course. Suspending a student has the following consequences:
The student will not be able to participate in new tasks in this course.
The student will still have access to all of their previous work.
The student will now appear in the "Inactive Students" list.
There may be any number of reasons for disabling – dropping your course, inappropriate behavior, etc. Whatever the reason, once you suspend the student, they appear on the Inactive Students list.

You can always undo a student suspension. To restore a student's access, simply click the Restore button next to their name in the Inactive Students tab.