Start your Eli Review course by explaining why peer feedback matters and how to give helpful feedback. 
This video shows how to load from Eli's task library a write-review-revise cycle that exposes students to multiple reasons for why peer learning helps them practice making effective revision decisions. Use it as a low-stakes activity for students to get familiar with how the app works.
4 min video shows instructors how to setup an introductory activity in Eli Review
Overview of the Tasks
These tasks follow the assignment guidelines developed by Transparency in Learning and Teaching (TILT). The purpose, tasks, and criteria are explicit. 
How to Create the Tasks in Eli
For both the writing task and the review task, instructors can create a task,  "load from library," search #helpful, and load.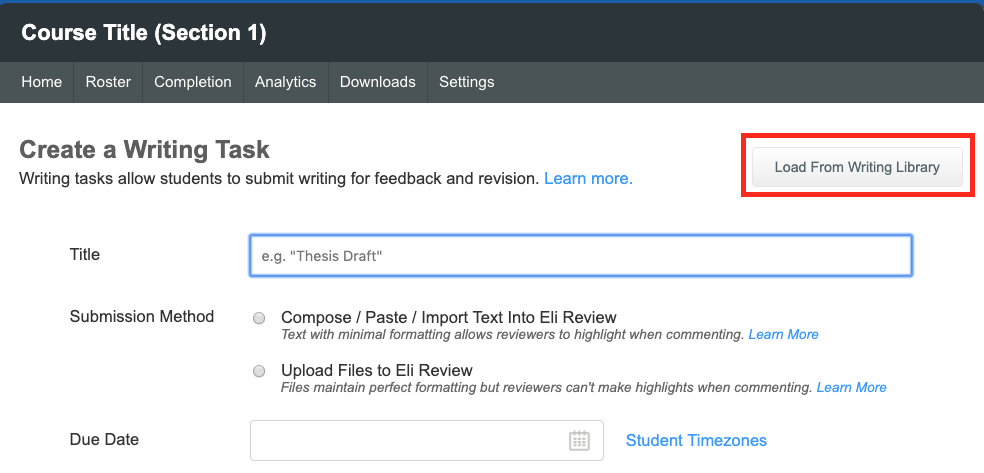 For the revision plan,  instructors can copy and paste these instructions:
——-copy below this line———
Purpose
After completing this assignment, you will demonstrate that you can use peer feedback in Eli Review to expand your own thinking. 
Task
Creating a revision plan involves 3 steps.
(1) Prioritize peer feedback.
Select, prioritize, and reflect on the feedback you received from peers. You reflect first on the individual comments you received, then you add an overall summary note.
For more help on the technical aspects, go here to check out the video  tutorial (click to watch) or documentation on how to build a revision plan (click to read).
(2) Add a comment to explain how you will/won't use peer feedback.
You will reflect upon each comment that you add to your revision plan. You can add notes to a comment that add detail about how you'll use that comment or an action that you might take in response to it. Or, you can explain why you are rejecting peer feedback. Your reviewer cannot see these notes. Only you and your instructor can view the revision plan.
(3) **MOST IMPORTANT** Additional Revision Plan notes
Summarize your insights about how you and all the members of this class can build a helpful peer feedback culture. Consider things you learned from reading your classmates' drafts, their comments to you, or any of the ideas shared during the debriefing session led by the instructor.
Be sure to include anything else you think your instructor should know about your experiences giving and used feedback in Eli Review this week.
Criteria for Success
A successful revision plan will engage with peer feedback and ideas from class. Engagement includes agreeing, disagreeing, extending, redirecting, or transforming.
———end copy——–
Recommended Schedule
Peer learning works best when students are on-pace together. To coordinate their work easily, follow this schedule:
Writing task is due Monday at 11:45 PM.
Assign groups Tuesday at 9 AM, using the "exclude late writers from groups" option when editing groups to be sure writers without drafts aren't put into review groups.

If you'd like, "Edit Groups" after Tuesday at 9 to put writers who submitted drafts late into groups so that they can participate in peer review.

Review task is due Wednesday at 11:45 PM.
Revision plan is due Thursday at 11:45 PM.
In short, a gap between the due date of the writing task and group formation of the review tasks allows students who are running a little late for their drafts to be on-time for participating in review. Also, two days for feedback and one day for a revision plan works well.