As the timeline of revision above shows, revision skills include reading, selecting, prioritizing, and reflecting.
Reading Feedback
Revising well begins with reading feedback with an open-mind. Try to understand what each reviewer was trying to say.
You might not agree with them, and reviewers might not agree with each other. This is normal. Writers often get feedback from experts that is contradictory. As a writer, this feedback helps you adjust your work so that it acknowledges those different viewpoints in your audience.
Once you've read each comment, you're ready to make some choices.
1

Selection

The student chooses specific feedback to use.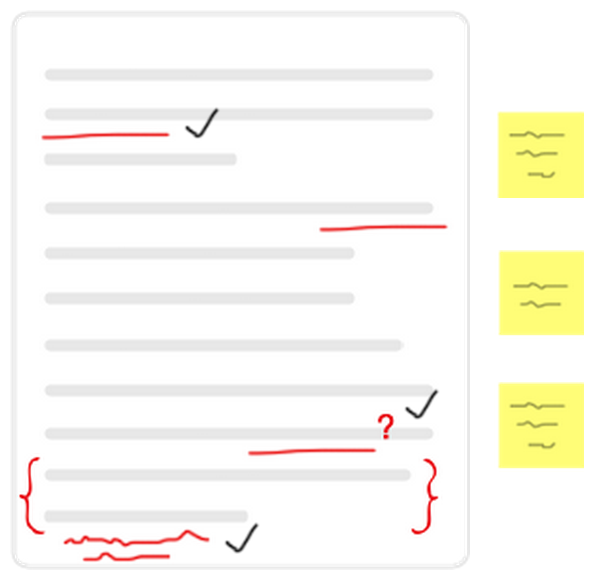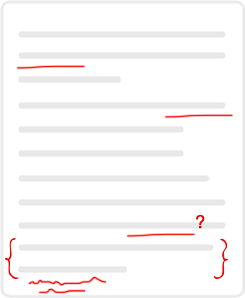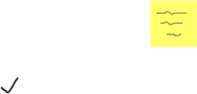 2

Prioritization

The student orders feedback from most important to least important.




3

Reflection

The student reflects on feedback and revises.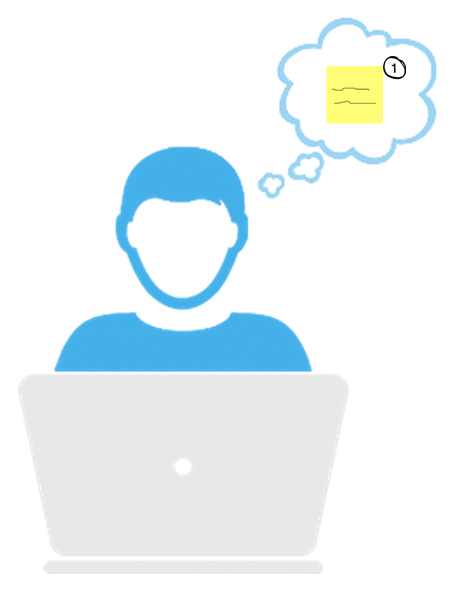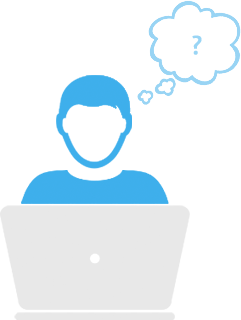 Selecting Feedback
The Importance of Feedback described a number of the qualities that make feedback helpful. Keep those in mind as you assess the feedback you've received. Ask of each comment:
Does this comment help me understand my writing any better?
Does this comment help me to measure my progress toward the assignment goals?
Does this comment offer any specific advice that I can follow when I revise?
Does this comment show respect for my work and me in its tone?
Pay close attention to those comments that help you revise.
When working in Eli Review, writers can also rate each comment using a 5-star helpfulness scale:
Rate each comment on a scale of 1-5 based on how well it meets our helpfulness criteria: remember that a helpful comment clearly names what the writer has done, is specific with regard to the goals of the writing, speaks to quality of the writing, and is respectful in tone.

The comment exhibits none of the helpfulness criteria.
The comment exhibits few of the helpfulness criteria.
The comment exhibits some of the helpfulness criteria.
The comment exhibits most of the helpfulness criteria.
The comment exhibits all of the helpfulness criteria.
Your helpfulness ratings in Eli will let your peers and instructor(s) know if you are getting the kinds of comments you need to revise.
These quick judgments will also help you decide which feedback will influence your revision. In Eli, choose "add to revision plan" in order to be able to access that comment in the next phase.
Prioritizing Feedback
After reading all the feedback (and perhaps rating its helpfulness) and grouping the feedback you want to use to guide your revision, you need to figure out which suggestions are most important. Ask yourself these questions:
Which comments help me make the best revisions according to the assignment's criteria?
Which comments match my stage of writing? (Am I ready to edit for punctuation and word choice? Am I too close to finishing to reorganize the draft this way?)
With the time I have to revise, which comments can I realistically address?
In Eli, go to your revision plan. Drag and drop the comments into the order that makes sense to you.
Reflecting on Feedback
A revision plan is a place to write briefly about what you hope to accomplish in the next version of your draft. This reflective writing helps you connect your goals with specific actions. It makes you conscious of your process and deliberate in your decision-making. Research in cognitive processes by Bereiter and Scarmadelia as well as on knowledge transfer summarized by Moore show that being aware of what you are doing and why will help you make better choices now and later.
In Eli, you can build a revision plan for any writing task. Your instructor might also require you to submit a revision plan. If your instructor is planning to comment on it, your revision plan is a good place to show your thinking so that your instructor can affirm or redirect your goals before you start making changes.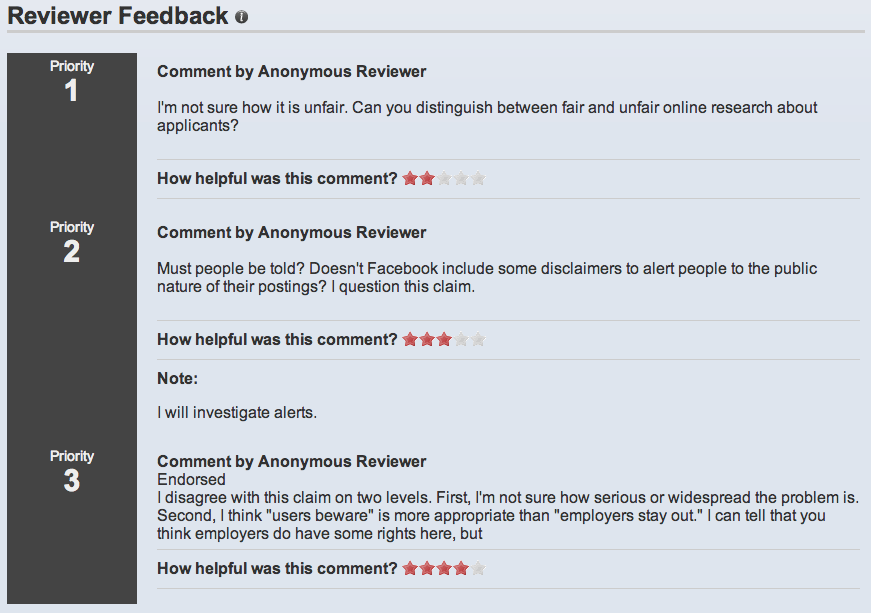 The revision plan shown above indicates priorities. For each comment added to your revision plan, you can also add a note that explains how you will follow that suggestion.
You can also add an overarching note that explains your goals. This reflective note is a good place to answer these questions:
What is your overall plan for revision?
Why did you follow some suggestions but ignore others?
What did you notice while reading others' drafts that inspires your revision?
What did you notice while listening to your instructor(s) or peers talk about trends in their feedback that you want remember while revising?
What additional resources do you need to complete your revisions (e.g., more time at the library, a visit to the writing center)?
A revision plan does not have to be in paragraph form. A list might be sufficient. Whatever form you choose, make sure to write down as much as you can, especially if you're not going to revise for a day or two (which is often wise).
Connecting your goals with specific actions in this plan will help your revision go more quickly and will help you make wise decisions later on future writing projects.