Eli has long had the ability to reuse individual tasks, both within and across courses, but instructors needing to reproduce the task structure of an entire course had to do so one task at a time. With the new Course Cloning feature, however, instructors can reproduce a course and its contents with a single click.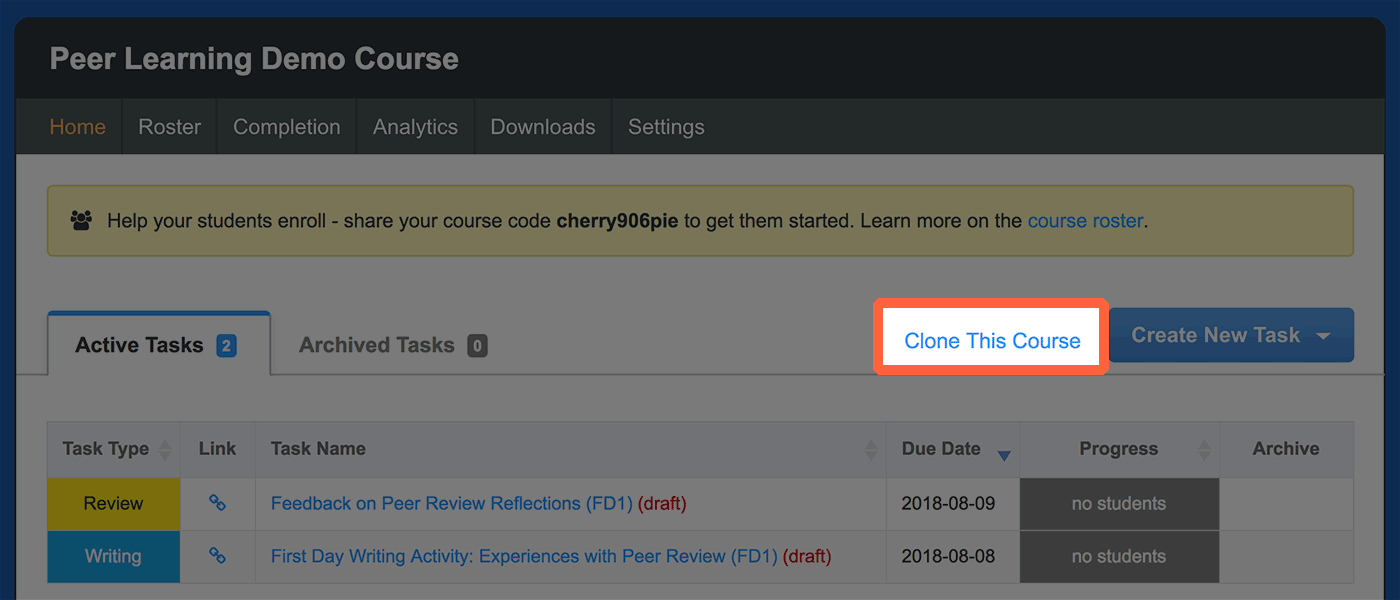 Starting today, instructors in most courses* will see a link at the top of the task table labeled "Clone This Course". Clicking that link will start the cloning process.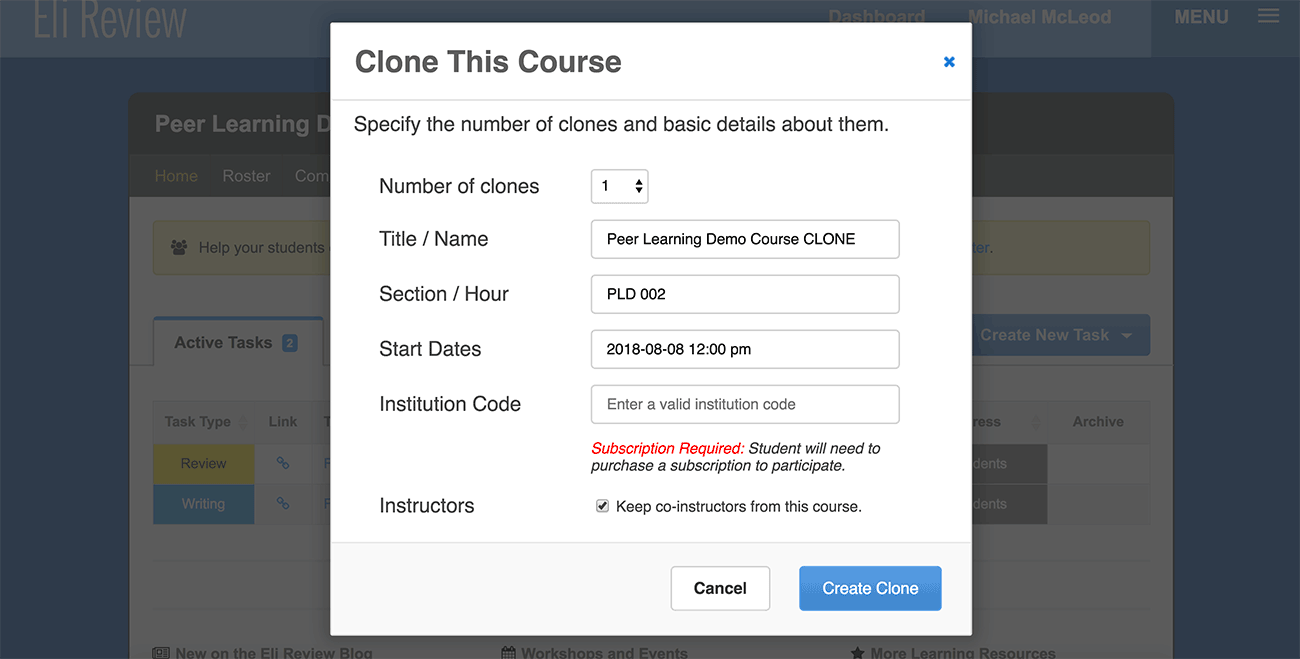 Cloning makes it easy to create a new version of an old course for yourself or to share with a colleague. Clones can have new names, sections, and start dates. Cloned courses can also be connected to an institutional purchase by entering an institution code here (codes can also be applied once a clone is created).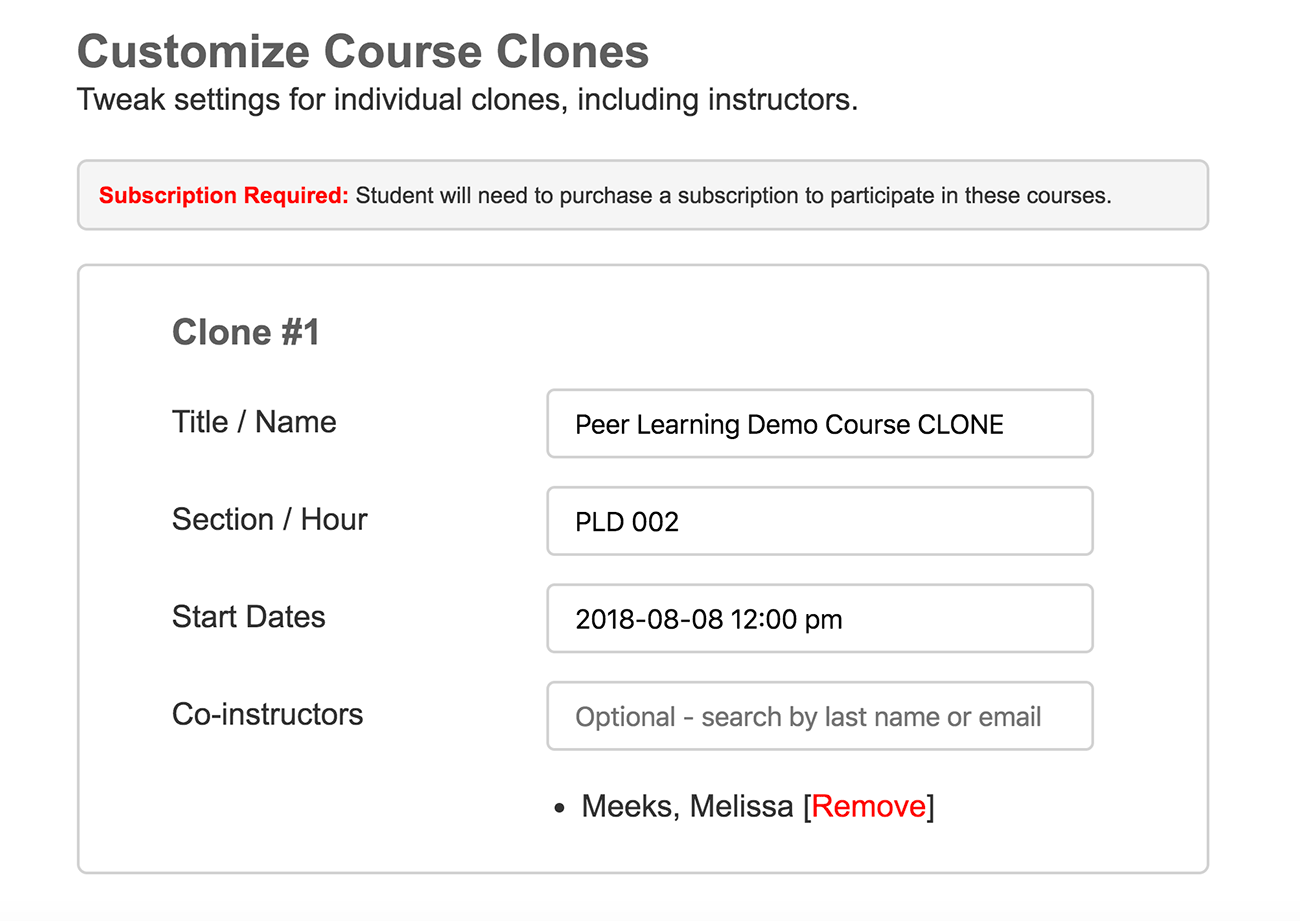 It's also possible to make many clones of the same course. Each clone's identifying elements (titles, sections, co-instructors) can be customized. This is ideal for instructors teaching multiple sections of the same course, or administrators overseeing multiple instructors teaching the same course.

Once a clone has been created, it will look just like a regular course, with a few exceptions. The clone will have all of the tasks saved from the original course, but they will all be saved as drafts. Instructors can customize those draft tasks as needed (students won't see draft tasks until they are assigned). Enroll your students and assign tasks as you go.
Creating clones of entire courses has been on many instructor wishlists for a very long time and we're excited to finally make it possible. Please send us your feedback and let us know how it works for you, or if it makes your work easier or better!
* Footnote: Eli won't clone a course that was originally created via a learning management system like D2L. This is because of the possible confusion about cloning Eli courses vs their counterparts in an LMS, so instructors in an LMS will still need to create their courses via the LMS and then copy their Eli tasks one by one.
---
Course Cloning Q&A
1) Will updates to the original course appear in the cloned course?
No – cloned tasks become their own distinct tasks at the moment of cloning, so any changes made to the original tasks will not be reflected in clones.
2) Are the start date of the course and the due dates of each task identical in the clone?
No – cloned courses preserve the sequence of tasks with a due date that corresponds to the original courses due date, but these due dates will likely not match your new course schedule, but you can customize the due dates for each task before assigning them.
Math Alert: Here's how due dates for cloned tasks are determined. You choose the start date for the clone (it can't be less than today) and then Eli figures out the rest. If, for example, the start date of the original course is September 1 and the due date of the first task is September 8, the difference is 7 days. When creating the clone of the task, Eli computes and remembers that difference in the original, so if the clone start date is October 1, the due date of the first task will be October 8. Eli repeats this process for each task, meaning that each cloned task should be spaced out over the duration of the clone as it was in the original course.
3) Will tasks in the cloned course become part of my personal task library?
Yes – cloned tasks become new tasks of their own that you can reuse through your task library. Any changes you make to the cloned course will be available in the task library. Customizations to the clone will not affect the original and vice versa.
4) Can I change the title of the cloned course after it is created?
Yes – clones have all the same settings as regular courses (title, section, time zone, etc) and they can be changed in the Course Settings menu.
5) Can I remove myself from a clone I've shared with a colleague?
No – you are, by default, the primary instructor on any course clones you make. You can appoint other co-instructors, but you cannot remove yourself.
6) Can I update the institution code once the course is created?
No – as with other courses, if you used an institution code supplied by your institution when creating a clone, you cannot change that institution. Email [email protected] if you need help altering institution codes.
If you did not supply an institution code when creating a clone,  you can update the institution or redeem an institution code at a later time through the Course Settings menu.
7) Do I have to clone every task in the original course?
Yes – course cloning is not a selective process, and clones will have copies of every task saved in the original course. If you don't want all of the cloned tasks, however, you can delete those you don't need.
8) The original course had a lot of tasks, some that I archived, but the dashboard of the clone has all of the task, and it's overwhelming. Can I change the default order of tasks so that the long list is manageable?
Yes – by default, Eli sorts tasks by due date, but each of the columns is sortable so you can arrange the tasks in a way that makes sense to you. You can also use the "archive" option to move cloned tasks to the "archived" tab until you're ready to work on them.
9) Can I delete a cloned course?
Yes – courses can be deleted until students have begun completing work. You can find the delete option in the Course Settings menu.
10) Will student enrollment or student work be included in the clone?
No – cloned courses only duplicate tasks. No student information or submissions from the old course is duplicated in the cloned course.
11) Will students see all of the cloned tasks that I see?
No – your dashboard shows you all of the tasks that were cloned from the original course, but they are all saved as drafts. Students will only see tasks once you've assigned them.