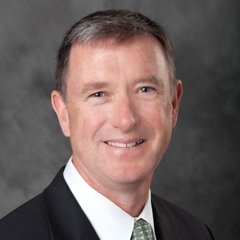 Eli Broad College of Business Associate Professor Brian Jacobs shared a peer learning activity for large-scale classes using Eli Review at Michigan State University's Teaching and Learning Spring Conference, May 9-11. In this blog post, we summarize his conference presentation.
The Problem of Assigning Writing in Large Lectures
Jacobs regularly teaches the introductory lecture course SCM 303 Introduction to Supply Chain Management. This past fall the course enrolled 570 students in one section and nearly 300 in another. All of those students needed practice writing in the discipline. So, Jacobs had options:
Give feedback himself—IMPOSSIBLE!
Train army of TAs—Expensive in terms of costs & oversight.
Don't assign writing—Not acceptable.
Use peer grading—Possible but risky.
Students-grading-students is a scaleable solution for writing tasks in large lecture courses. With clear, simple feedback prompts, students can be accurate. Practicing by scoring strong and weak models together improves accuracy. Plus, expanding group size to be sure there's a tie breaker can also reduce the impact of reviewers' who score drafts too high or too low compared to peers.
With these guidelines in mind, Jacobs chose to try peer grading in Eli Review, a peer learning app designed at Michigan State and available to all MSU courses through a D2L integration. Although Eli is typically used for formative feedback so that students can use peer comments to improve, Casey McArdle and Melissa Meeks were able to help Jacobs design a summative feedback review with a spreadsheet-friendly download for calculating grades.
How to Set-Up Eli Review for Peer Grading
The review task (below) included a checklist of basic requirements, a checklist of red flag problems with citations, and a series of Likert scale questions based on Jacob's typical grading rubric. Reviewers were also asked to explain their ratings.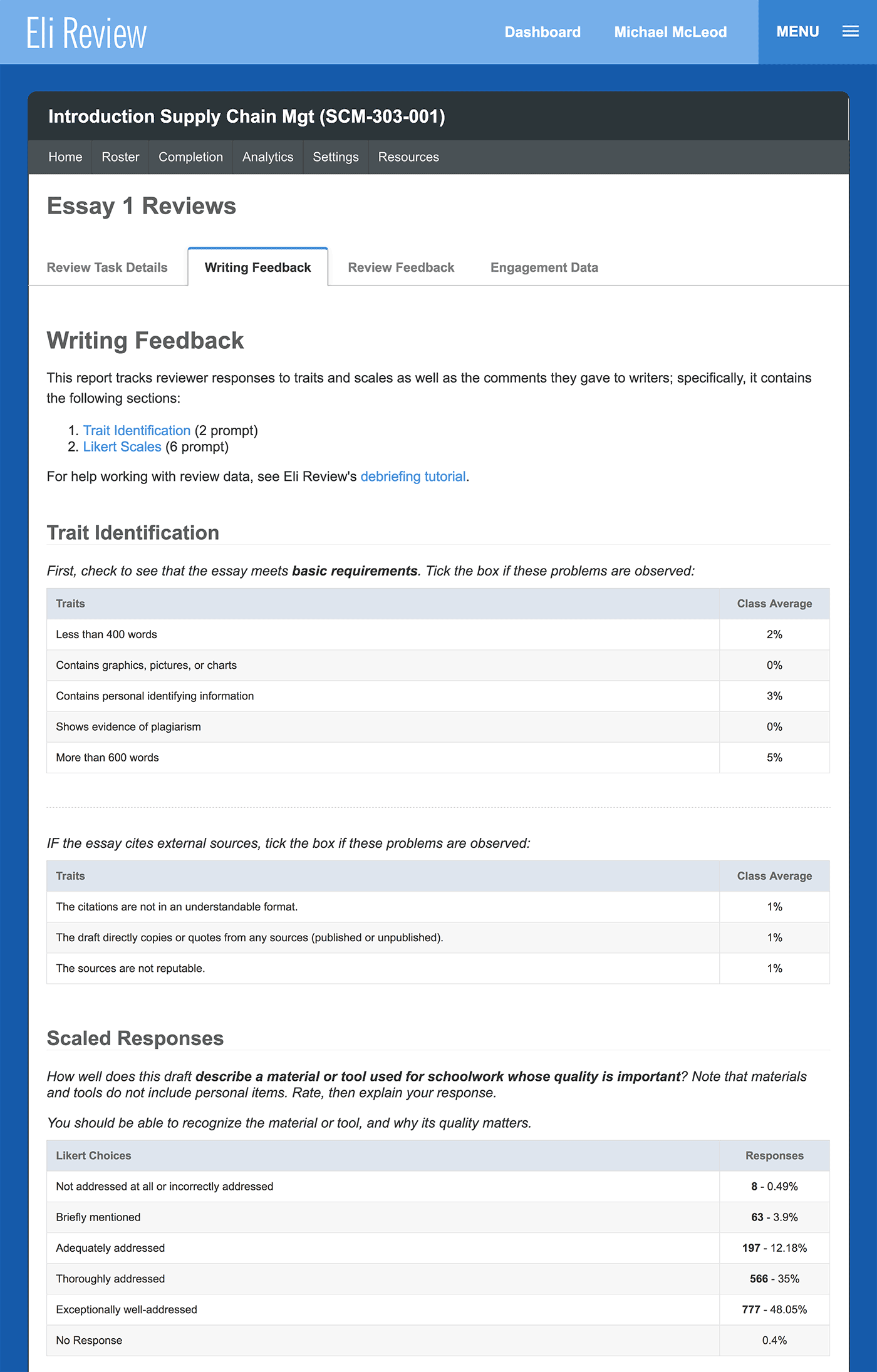 Students earned points based on a combination of timeliness, effort, and peers' ratings. Using the Criteria + Scale download in Eli, Jacobs was able to build a spreadsheet that calculated students' grades.
Points
Criteria
5
Timely submission of draft for peer grading
5
Quality of draft

Deducted points if peers were accurate about missing basic requirements or problems with citations.
Average of 3 scores on 5 Likert scales related content quality
Average of 3 scores on 1 Likert scales related to readability

5
Timely, thoughtful submission of peer feedback

Deducted points if checklists were inaccurate (falsely credited writers for meeting basic requirements or falsely noted that writers hadn't met criteria)
Deducted points if all ratings were identical
Deducted points if no explanations for ratings were given
Students could appeal their grade. In such cases, a TA or Jacobs would hand-grade the student's draft and peer feedback using the same criteria.
Advice for Using Peer Grading in Large Lectures
For faculty attempting peer grading in large-scale lecture courses, Jacobs offers this advice:
Keep reviews anonymous. Instructors can select anonymity when setting up reviews, preventing reviewers from knowing writers and writers from knowing reviewers.
Anticipate that some students will give (and thus some students will get) coarse feedback. Again, modeling helpful feedback using Eli's student resources can help; but, without intentionally practicing feedback, students have little opportunity to improve.
Make sure reviewers "have skin the game" by holding them accountable for submitting a draft BEFORE they read/respond to others' drafts* and by deducting points for poor feedback. *In Eli, simply "Exclude late writers" when setting up groups.
Discourage frivolous requests for appeals.
Keep the point value of the peer review assignment small.
Jacobs found what most peer grading researchers also note: Peer grading scores are very comparable to instructor scores, but students don't much like it. Both the appeals process and the small percentage of the final course grade determined by peer grading kept student dissatisfaction in check.
Bottom-line: Peer Grading in Eli Worked
On balance, the peer grading experience provided a scalable solution for students to have a professional writing practice in a large lecture course. With Eli's efficiencies, Jacobs was able to assign two 400-600 word writing assignments to nearly 900 students for peer grading. That means students:
wrote 800-1,200 words in drafts
read 2,400-3,600 words of other students' drafts
made 36 ratings about how well drafts met expectations
This peer grading activity not only solved a scalability problem but it also generated a lot of learning.
Interested in learning more about how to design writing activities for large lecture courses? Contact [email protected] to schedule a time to talk through your teaching goals.