We've been gradually expanding the Curriculum Resources section of the Eli Review website. In November we released an 8-week module for coaching students to better performance in the ACT Plus Writing test. Today we're releasing our newest curriculum resource: a 16-week Science Writing Curriculum that can be taught in pieces to help students learn the conventions of particular science writing moves (proposing, presenting results, literature review, etc.). Or the whole sequence can be taught in a full 16 week course to help students write a full science journal article.
Origin of the Science Writing Curriculum
These materials were created by a writing specialist and a scientist – Melissa Graham Meeks (PhD, Rhetoric and Composition, Media Editor) and Ingrid Lofgren (PhD, MPH, RD, Nutrition and Food Sciences, University of Rhode Island) – and have evolved over several years.
Melissa first developed these materials in 2009 while she was a Brittain Fellow post-doc teaching at Georgia Tech.Students from many science disciplines were simultaneously guided by faculty mentors overseeing their research while enrolled in the Undergraduate Research Thesis Writing course Melissa taught to help them prepare a thesis proposal. Melissa's course design relied heavily on peer feedback; while she definitely saw students improve, the technology she had at the time made review "clunky and cumbersome":
We used Google Docs to facilitate the peer review process. Students made progress, but we spent way too much time exchanging files and organizing the feedback. They learned, but it wasn't very efficient. It took me a long time to make heads or tails out of the quality of the drafts and the feedback. I had to work really hard to find trends for class discussion and to identify the specific needs of each individual writer as well.
Melissa had a perfect opportunity to revise her course design while collaborating with Ingrid on a pilot study of Eli Review at the University of Rhode Island. Melissa took the feedback-heavy curriculum she'd prepared at Georgia Tech and worked with Ingrid to adapt it for her course on pharmacological research writing using Eli's affordances, particularly the ability to fit more review and revision into a schedule and to use review data to better guide students.
Teaching the Genres and Conventions of Science Writing with Eli Review
Using Eli Review eliminated most of the roadblocks Melissa encountered in the first iteration. Eli Review helped Melissa and Ingrid to "compress time and space," making it easy to fit in more write-review-revise cycles, and to have students doing much of this work outside of class, leaving face-to-face time for instruction, modeling, and just-in-time coaching.

Eli also greatly expanded their ability to help students get better at giving feedback and using that feedback to make effective revisions. Specifically, it made it possible for them to:
watch for trends in review feedback
endorse and discuss exemplary models
coach revision by responding to revision plans rather than original drafts
let them demonstrate clearly that the feedback they give matters
reserve instructor commenting for more developed drafts rather than the same draft peers read.
From a coaching perspective, Eli helped them coach students through learning the genres and conventions of science writing by making visible to them:
How much effort did students put into the review?
How well did they understand the criteria when evaluating others' work?
How helpful were their comments?
Have students grasped these concepts as readers and as writers? Are they ready to move on?
Melissa and Ingrid both acknowledge that there are many guides to science writing genre conventions, and any of them can be adapted to work effectively using Eli Review. Melissa developed this matrix in order to adapt her original curriculum into Eli Review tasks:
Checklists => Checklists (Trait Identifications)
"Do vs. Don't" => Scales (Likert or Star Ratings)
Adjectives such as complete, clear, compelling => Evaluation (Likert Scales or Star Ratings)
Open-ended Questions: Marginal/End Comments (Contextual or Final Comments)
By using this conversion matrix, instructors can create their own review tasks or modify those provided.
Using the Materials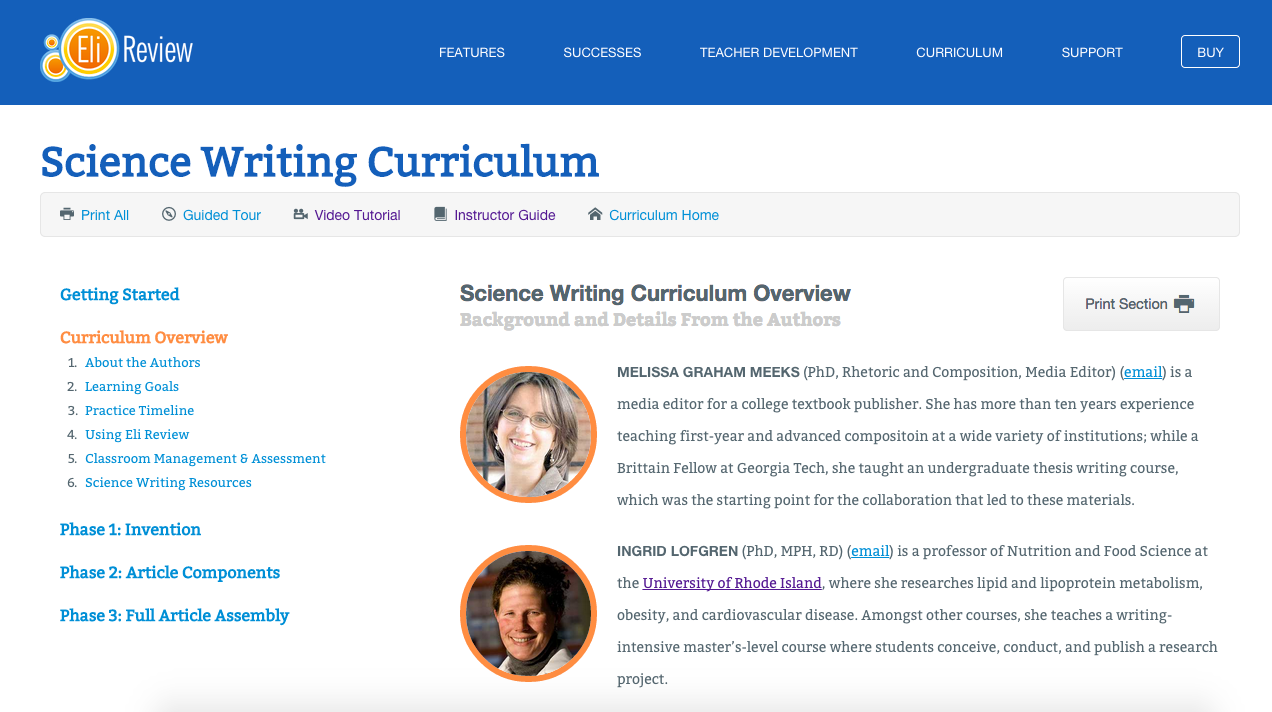 Melissa and Ingrid's 16-week curriculum is available for free on the Eli Review Curriculum Resources website. The instructional materials include the following:
A 3-sequence Invention Phase to help writers learn the basic conventions, develop compelling titles, and assemble an outline.
An 8-sequence Article Components Phase focused on each major section of an article (introduction, materials and methods, results, discussion or IMRAD).
A final 3-sequences focused on the Full Article Phase that help make sure the components have been assembled effectively.
While the materials are presented as an integrated 16-week curriculum, the individual components can be taught separately. If, for example, students only need to practice writing reports of experiments, the "reporting" activities in Phase 2 work perfectly well as independent activities; those reviews are designed to help students learn to notice the conventions and moves expected in the introduction, materials and methods, results, and discussion sections.
Melissa and Ingrid's materials are released under a Creative Commons Attribution-NonCommercial 4.0 International License, which means they are free to use and adapt as long as attribution is provided. These materials are designed to work without Eli Review, but they are all accessible to all Eli instructors via the task repository: just search for #SJ in the repository for all of the related writing and review tasks.
Related Links