Eli Review was invented by teachers who needed a tool to support effective writing pedagogy. Learning and writing theory are baked into Eli's DNA.
The Eli Review team is proud to introduce the Teacher Development Series, which is intended to foster conversation and dialogue about theory and best practice. This series will consist of short web-based installments that spotlight topics or conventions related to writing instruction. The series isn't focused on Eli Review as a technology; instead, each installment focuses on the elements of effective teaching that are proven to help writers improve most effectively. These evidence-based practices are critical to effective writing instruction in any learning environment, and Eli Review can support these practices to produce even greater student growth.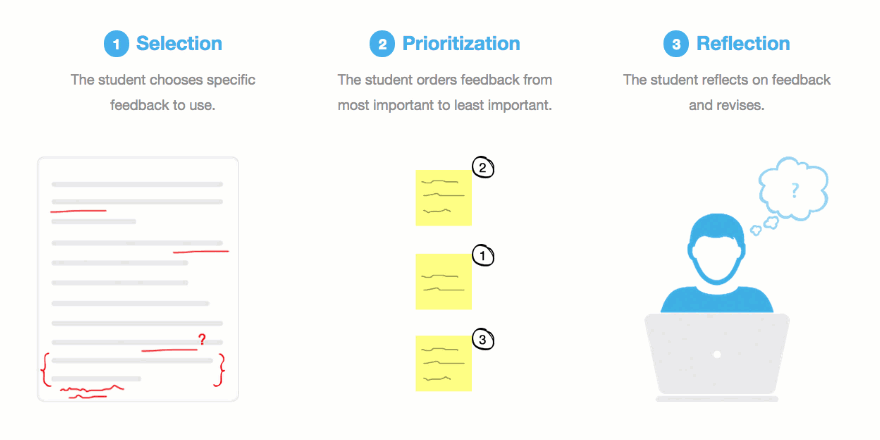 About the Installments
Each installment in the Teacher Development series is designed to:
Read swifty: each installment is designed to be consumed in a single sitting, about 20 minutes or so. Theoretical concepts are introduced as approachably as possible, and concepts are accompanied by a collection of animation, brief videos of writing instructors discussing relevant topics, and short passages of text.
Promote reflection and discussion: faculty development groups often look for material to discuss amongst themselves, so the final section in each installment includes a set of questions designed to encourage reflection on the material and promote teacher development.
Lead to further development: each installment will end with a series of resources designed to help teachers dive deeper into the subject. These will include any sources cited, links to relevant material on the web, and other resources on the Eli Review website designed to help bridge concepts with Eli's features.
Upcoming Topics
The first installment in the teacher development series, Feedback and Revision: The Key Components of Powerful Writing Pedagogy, is available now. It focuses on decades of research pointing to the significant roles that feedback and revision play in learning across disciplines and discusses implications for writing classrooms. This installment features two of Eli Review's co-creators, Jeff Grabill and Bill Hart-Davidson, as well as Stuart Blythe and Rebecca Zantjer from Michigan State University and Amy Huntley from Okemos High School.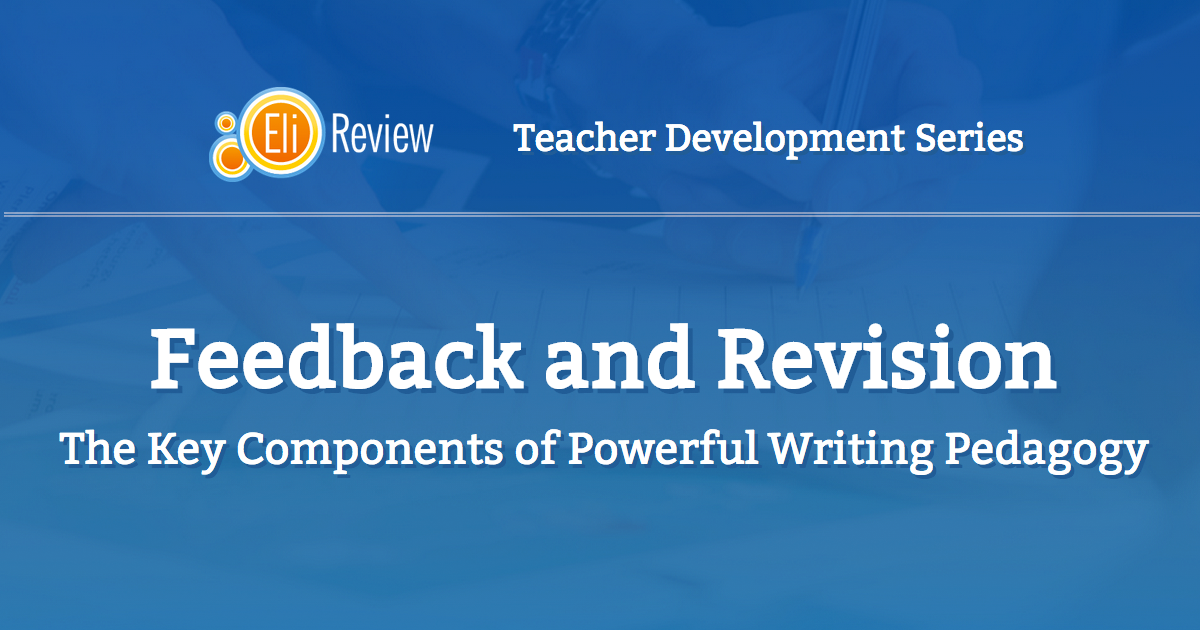 Future installments in the Teacher Development Series will cover the following:
Designing Effective Review Tasks – developing good review activities that effectively prompt students to provide helpful and actionable feedback (December 2014).
Teaching Revision to Students Via Planning – planning a revision based on good feedback that leads to better writing and better writers (January 2015).
Using Formative Assessment Data – using data created in Eli Review to develop highly effective teaching strategies (February 2015).
To stay up-to-date as new installments in the Teacher Development Series are released, follow Eli Review on Twitter, Facebook, or this blog's RSS feed.