Although the universal teacher lament that there's no time for such feedback is understandable, remember that "no time to give and use feedback" actually means "no time to cause learning" - Grant Wiggins
Teachers at every level face the pressures of coverage, pacing guides, or standardized assessments that make even the most experienced teachers wonder how they can fit more feedback and revision into a packed calendar. However, 30 years of research into learning and writing is conclusive:
"As we have seen, research shows that less teaching plus more feedback is the key to achieving greater learning. And there are numerous ways—through technology, peers, and other teachers—that students can get the feedback they need." Grant Wiggins
One of the challenges to making space for more feedback is how time is allocated in many writing assignments: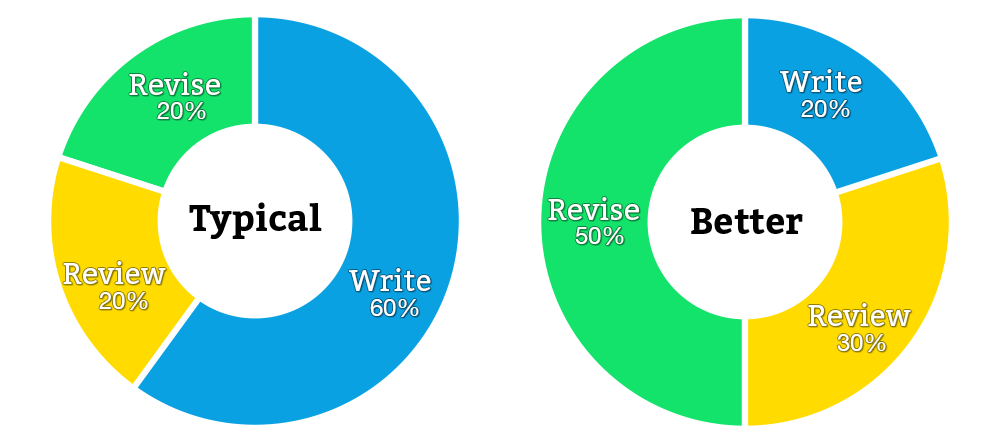 Typically, the majority of time in an assignment sequence is spent on writing and discussion, leaving less time for feedback and revision. As we've seen, however, revision is where learning happens, so an assignment sequence designed to facilitate those learning moments should spend the majority of its time there.
---
Making Time with Rapid Iterations
One way to make space in curriculum for more feedback and revision is to change assignment sequencing. If we were to roll out the "typical" donut above, this is what an assignment sequence might look like:

In sequences like this, a lot of time is invested developing a fully-functional version of a text. Some consequences of this sequence include:
Less time for feedback and revision.
Less openness to revision because of impending deadlines.
Less openness to revision because of unwillingness to throw out substantial amounts of text.
Contrast the typical writing-intensive sequence to a workflow like this, where the mantra is "review early and review often":

Here, in the same amount of time, review and revision are treated as co-equal components and more closely resemble the iterative process writing studies has advocated for 30 years.
There are numerous advantages to a more iterative writing process:
Writers get feedback at the earliest stage of the process.
Anything of any size can be reviewed - titles, theses, outlines, paragraphs, etc.
Greater confidence that later drafts meet criteria.
Likelihood of plagiarism reduced if instructors can watch ideas evolve from their origin.
Less investment in early drafts and ideas and more willingness to incorporate feedback and revise.
There are other ways to make room for the teaching and coaching of feedback and revision, particularly in the way that reviews are designed and results are reported.