James M. Lang's series for the Chronicle of Higher Education on Small Changes in Teaching and his new book Teaching Small offer practical, research-grounded strategies for improving learning. Lang asserts:
When it comes to the deliberate construction of our course periods, we can do better. As I have been arguing in this series, small changes to our teaching — such as the way we approach the closing minutes of class — can make a big difference.
Lang's approach to small changes turns out to be a whole host of writing-to-learn assignments that encourage students to think through the material they've been exposed to and write quickly about it.
At Eli Review, we encourage small bits of writing and targeted, frequent review, so his suggestions resonate with the pedagogy of rapid feedback and revision cycles that the app supports. We find his work immensely useful for finding small bits of writing that work across disciplines.
For example, Lang describes Angelo and Cross's Minute paper in his article on "The Last 5 Minutes of Class" in which students state the most important thing they learned and one lingering question. In the article, he describes various ways to manage the process:
just reading, not grading
perhaps not even collecting
moving the activity to a discussion board
A "Last Five Minutes" Exercise
Want to try a "last five minutes" exercise? If you're an Eli Review instructor, you can try this technique by loading this review template into your course and customizing where appropriate.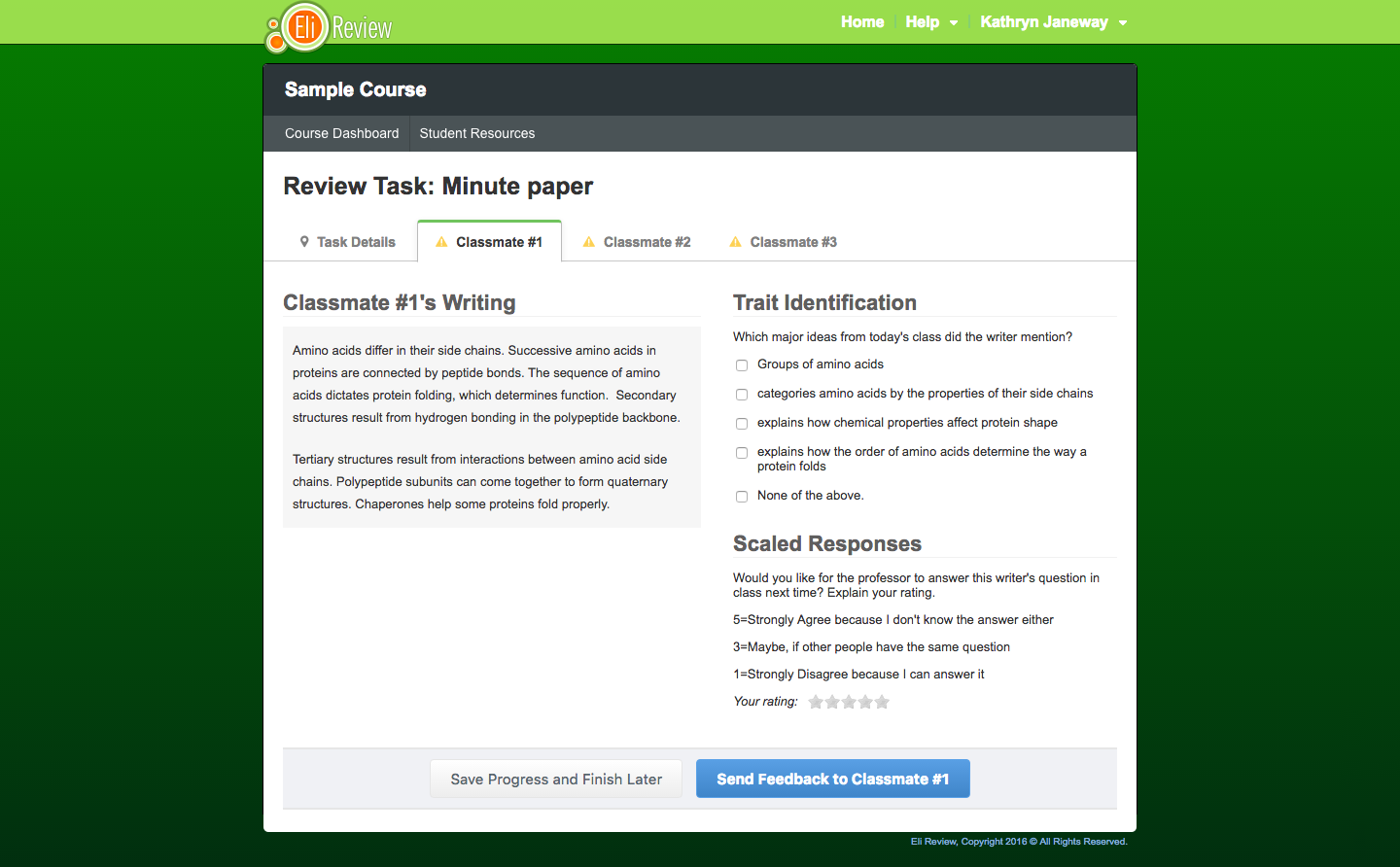 This Minute Paper feedback exercise includes a checklist of major ideas and rating scale that nominates a question for the professor's answer in the next class period:
Trait Identification: Which major ideas from today's class did the writer mention?

Idea 1
Idea 2
Idea 3
None of these

Rating Scale: Would you like for the professor to answer this writer's question in class next time? Explain your rating.

5=Strongly Agree, because I don't know the answer either
3=Maybe, if other people have the same question
1=Strongly Disagree, because I can answer it
Reviewers can add explanations in which they answer the questions posed by another student or add their own reasons for confusion in support of seeking the professor's input. It exposes students to more summaries of the lecture/reading while they are actively judging accuracy and thoroughness. It gives them an opportunity to learn from each other and to review their own notes before seeking the professor's help. It's a small bit of writing paired with a small bit of immediate, personalized feedback.
This approach tweaks Lang's discussion board. On the positive side, unlike in a discussion board, students are forced to read and give feedback to a few peers; on the negative side, students only have access to the members of their group. For instructors, the news is all positive. They retain access to all student writing and feedback, but they get a report summarizing the trends, so they could see at a glance how many students were able to summarize each idea and which questions groups most wanted answered.
The person who reads the most learns the most. Instructors learn a lot about student understanding from merely reading their minute papers, and adding peer feedback to a minute paper assignment gives students an opportunity to benefit from reading as well.
---
Original link: The Last Five Minutes of Class, The Chronicle of Higher Education