Eli Review's anonymity feature creates a double-blind peer review: writers do not know reviewers' names, and reviewers do not know writers' names. When anonymity is engaged, student names are replaced with Classmate # (see screenshot below). The number varies with the student's group membership, so they are unlikely to be represented by the same number in different reviews.
However, Eli can't obscure student information when:
Students put identifying information inside their text
Uploaded files have identifying metadata embedded (usually invisibly) inside them
Document metadata is the trickiest to deal with because writers (and, frankly, teachers) usually aren't aware when apps add this data to files. Below are some specific strategies for finding and removing data from Microsoft Word documents and other files.
However, there are three best practices that will help ensure that anonymous reviews are completely anonymous:
Coach students not to put identifiable information in their writing – students are often conditioned to include their names, student numbers, course sections, etc inside the headers of their documents, so inform them ahead of time that these should be removed before submitting their text or file inside Eli.
Use the "Compose in Eli" submission method as often as possible – reviewing plain text rather than files has many advantages in Eli, but one specific advantage is that you don't have to take any additional steps to obscure identifiable info.
Download files from Google Drive – if an uploaded file for review is important, one of the safest ways to prepare a file is to use Google Drive. Have students prepare their content in Drive, then go to File -> "Download as". Students can choose from a number of download formats (Word, PDF, etc) but the file Google downloads will not have any identifying metadata embedded in it.
Sometimes, though, best practices aren't possible. If writers must work with files on their local computers, the instructions below will guide them through removing any embedded, identifiable metadata.
Removing identifiable info from Microsoft Word files
If you're working with Microsoft Word files, the best option is to use the built-in privacy management features. These options are different on Mac and Windows, but they have the same effect of removing metadata that would reveal writer identities.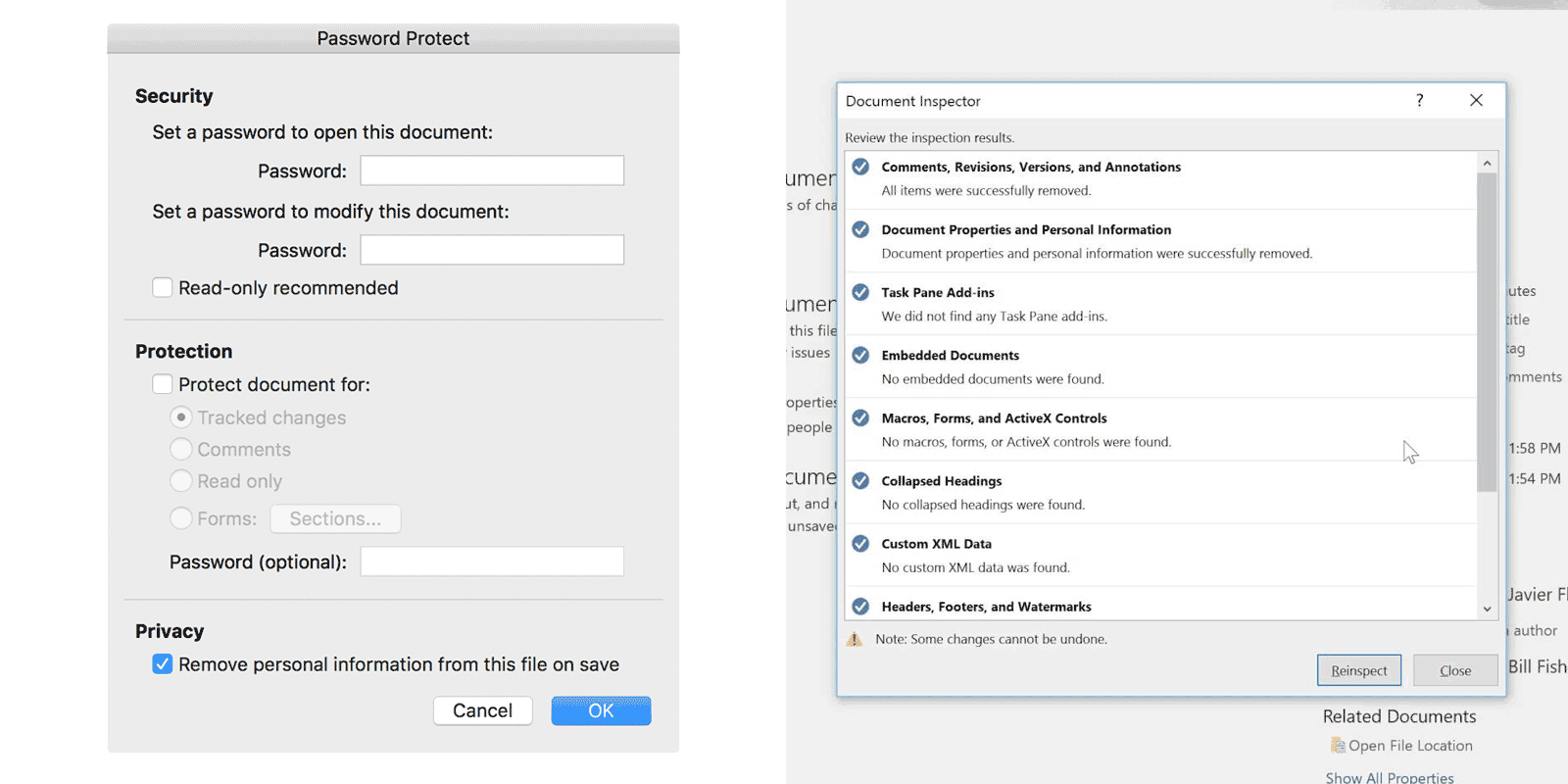 The tool differs slightly based on platform (Mac vs Windows) but the instructions below will help writers using either.
Word for Mac [Office 2016]
From the menu bar, select Tools -> Protect Documents …
Check the "Remove personal information from this file on save" (see screenshot above)
Save the document
Word for Windows [Word 2010, 2013, 2016]
From the menu bar, select File -> Info
Click the "Check for Issues" button and select "Inspect Document"
In the Document Inspector, check all boxes and click "Inspect" (see screenshot above)

"Document Properties and Personal Information" will have most personal info
Consider the "Comments, Revisions, Versions, and Annotations" option to be sure

If the inspector finds any relevant info, click the "Remove All" buttons next to it
Click "Close" on the inspector and save the document
Best option: "Print to PDF"
For non-Word files, the best option is to use the operating system's built-in PDF converter. Mac has had these tools natively for many years, but newer versions of Windows also now have an option built in that allows you to export many types of files to PDF. In either case, the operating system either allows you to choose what metadata to include in the exported PDF, or doesn't include any in the new file at all.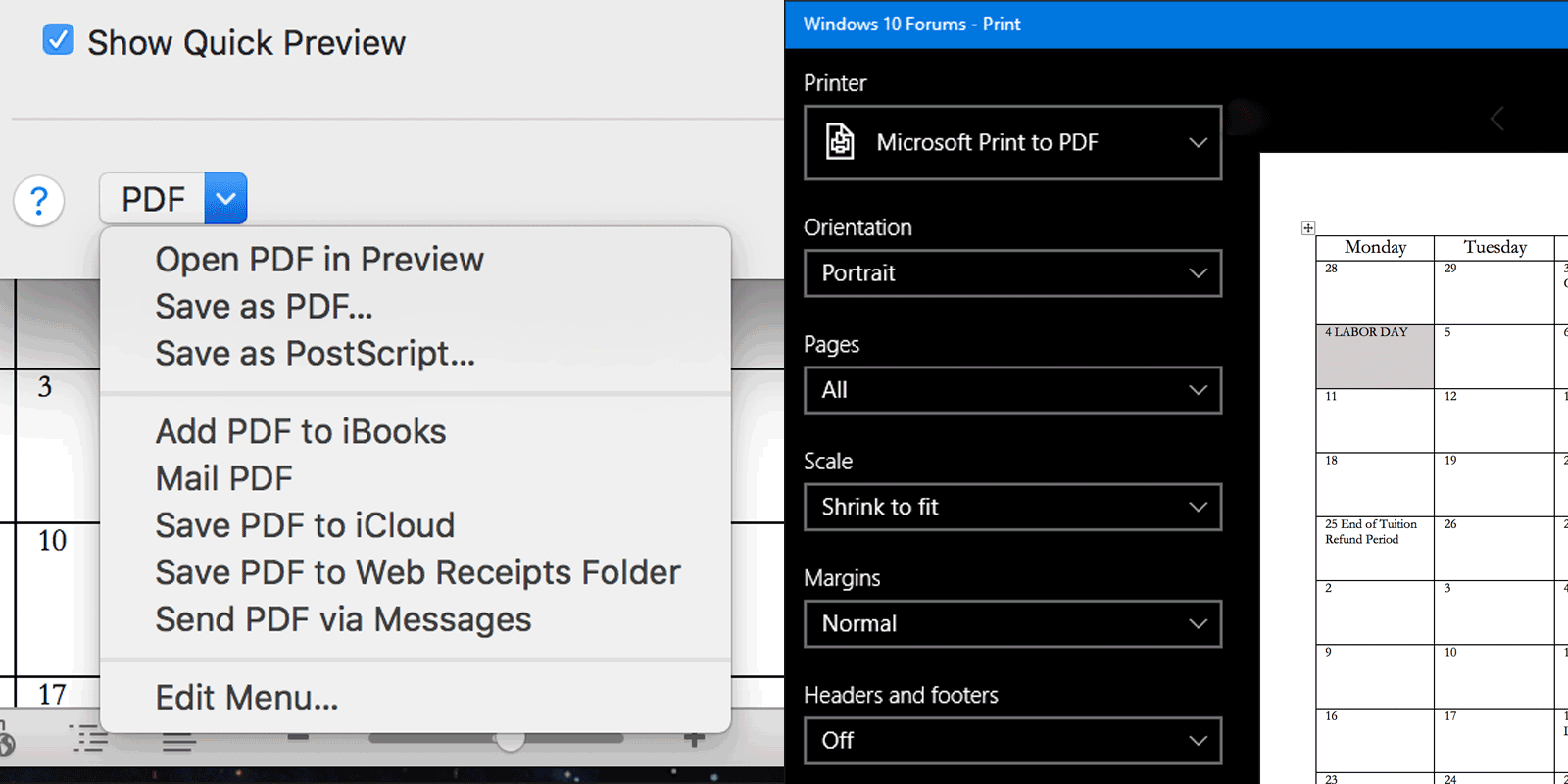 Printing to PDF on Mac
From the menu bar, select File -> Print
Find the "PDF" dropdown and choose "Save as PDF …" (see screenshot above)
In the "Save as PDF" screen,

Remove any info (especially "Author") that Mac may fill in automatically
Select the destination for the PDF and click "Print"
Printing to PDF on Windows
Versions 10 and above of Windows have a "Microsoft Print to PDF" option built in. Accessing it is very similar to the process on a Mac:
From the menu bar, select File -> Print …
Select "Microsoft Print to PDF" from printer list (see screenshot above)
Select the destination for the computer to save the PDF and click "Print"
If you're a Windows 10 or above user and don't see this "Microsoft Printer to PDF" option, installing it is easy and free. If you're using an older version of Windows, there are third-party solutions you can install that will make this possible.