The summer of major new features wraps up today with several new features that we've been excited about for years and are happy to finally deliver. Today is the last major push of the summer, so these will be the last of the new features, but we'll have several small updates in the coming weeks that plug a few holes we know about and continue to solve problems as they come to our attention.
New Feature: Goodbye Assignments, Hello Writing Tasks
Since the first major release of Eli, the "Assignment" was one of the system's primary metaphors. The idea behind this choice was that offline assignments are often comprised of multiple pieces – with an essay, for example, an instructor might ask students to compose a thesis statement, followed by an outline, followed by a draft, followed by a revision. All of those things were considered deliverables (or "documents" or "writing products") of the assignment – an assignment was a container for many potential pieces of writing.
This was confusing for some students and teachers, though. You wanted a more streamlined approach.We listened! Now, the work students do in Eli comes down to three things:: writing tasks, review tasks, and revision tasks. We're very happy to permanently replace the "Assignment" with the "Writing Task," a much simpler interface.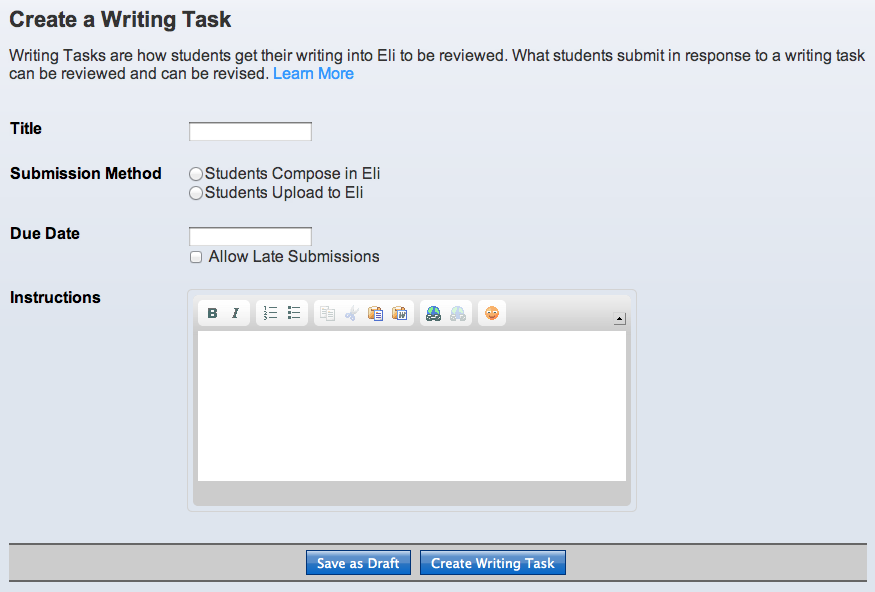 New Feature: Revision Tasks
We alluded to the rollout of this new type of Eli activity with our previous big update, and you could see where we were going with the release of the revision plan feature, but now they're officially here!
Instructors can create Revision Tasks for their students, completing the Write – Review – Revise cycle that forms the backbone of most
writing instruction.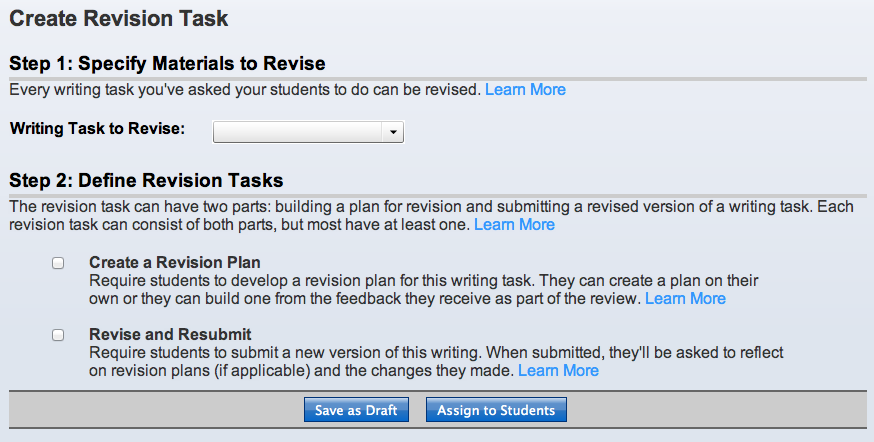 Here are the highlights of how revision works in Eli:
Teachers ask students to do two types of revision tasks: 1) make revision plans and 2) revise and resubmit a piece of writing. Each type can be added at different times, so you can add a "revise and resubmit" task after students have completed a revision plan, but not vice versa (because yeah, planning a revision after you've written it makes no sense).
Students can make a revision plan without instructors assigning one. If an instructor does assign a revision plan, students complete it and then can elect to share it with the instructor.
Teachers can leave feedback on the revision plan for a student to encourage any necessary changes before revising begins.
Revise and resubmit tasks work exactly like writing tasks, but when students submit revisions, Eli records the revision as a new version of the original, making it easy to compare before and after.
Eli generates a Revision Report for each student that gathers all of the products of the writing process in one place:

The original writing task
Any reviews done of that writing
The student's revision plan
The revision of the original writing

We'll have a couple more revision features coming in the near future, but for now, we're eager to get these into your hands and see how you'll use them.
New Feature: Student Portfolios
Folks have been asking for this feature for a long time and we're happy to finally deliver. Our new Portfolio features will generate two different types of displays:
Student Portfolio – all users will have a student portfolio view that will collect all tasks (writing, review, and revision) they've ever done in Eli, across all of their courses. The portfolio gathers these in one place to make it easy to access everything. Users can access their portfolios by clicking their name in the upper right corner and selecting "Portfolio."
Instructor's Student Portfolio – instructors now have access to a course portfolio of each of their students. Unlike the Student Portfolio, the Course Portfolio collects all of the writing a student has done in that specific course, giving the instructor a history view of that student but not allowing them to see across all of that student's courses.
Being able to see writing, review, and revision task history across a single course or across an entire writing career should give both writers and teachers a distinct understanding of their performance.
New Feature: Course Settings

A feature specifically requested by instructors is the ability to manage your course settings. Users will no longer have to contact support to fix misspellings in the titles of their courses! You can access the Course Settings from anywhere inside your course, and you'll be able to:
Update the title and section number of your course
Adjust the start and end dates of the course
Add co-instructors by either their username or an email address
Adding co-instructors is a particularly powerful new feature. As co-instructors, they can create new tasks in your course, but they'll also be able to re-use your tasks in their own courses.
Bug Fixes
As always, we do a little housekeeping with each release, but this week there was only one: we fixed a bug that caused weird date range issues – courses could only last two weeks, assignments would come due at strange times, etc.