Reviews from which writers receive helpful feedback that will drive revision rarely happen without coaching, especially with novice reviewers. Teachers in feedback-rich classrooms must give as much attention to designing reviews as they do to designing writing prompts.
Review prompts shape how reviewers talk to writers, influencing the details reviewers notice and ignore. Prompts are not just words instructors use, but also the various forms of response they choose to help reviewers read a draft carefully and respond to it thoughtfully.
Unhelpful feedback is often the result of reviewer insecurities, caused by many factors:
They don't know how to talk about writing, generally.
They aren't aware of the learning goals of a project, specifically.
They aren't comfortable providing feedback to peers, especially friends.
When designing a review, there are three important factors we can take into account that will help overcome these obstacles and result in better feedback: we can consider the cognitive load of our reviews, start with pedagogical goals and design reviews backwards, and be detailed and specific in how we prompt students.
Design Consideration #1
Consider the cognitive load of a review
One mistake we often make is giving students too much to do. Asking reviewers to read too much text and address too many questions can often mean that they don't have time to respond thoughtfully. Module 1 discussed the issue of time and feedback loops, but some specific strategies for reducing cognitive load on reviewers include:
Review smaller texts - consider smaller, focused reviews as a text develops, rather than asking reviewers to digest and respond to a large text. In an example like this, writers get feedback early, on small pieces, helping make sure that the larger draft they're building toward is on the right track, with the added benefit of making plagiarism much harder (since you can watch as a text evolves from earliest kernels to a full draft):

Multiple reviews of the same text - Divide reviews to conquer cognitive load. Design smaller, swifter reviews that are focused on specific, granular goals. This will let reviewers focus carefully for discreet moves.

Design Consideration #2
Start with learning goals and design backwards
Knowing what you need from reviews can help you design them to yield better data. Think about what kind of feedback you want writers to get from a review as well as the data you need in order to see student progress or evaluate your pedagogy.
Try thinking like a survey designer. Prepare questions that will get reviewers to notice, record, and comment on drafts that will drive revision planning. Well-designed surveys lead participants to make judgement that lead to valuable feedback.
Quantitative data: Checklists, ratings, and scales can focus reviewer attention on specifics. Results from these can give writers and instructors a sense of reviewer perceptions on writers' overall alignment with criteria.
Qualitative data: Open-ended comments are valuable for writers because reviewer feedback can drive revision. They can also provide insight into the abilities of reviewers; instructors can assess the helpfulness of reviewer feedback, and reviewers can reflect on feedback they've given and how it has or hasn't improved.
If you want reviewers to offer a good comment about the effectiveness of evidence in the draft, what should reviewers notice? How should they evaluate those features? What keywords will help them articulate their insights to writers?
Designing with the end in mind allows you to create specific, focused review prompts that will help reviewers make easy, accurate judgements and help them give the directed, helpful feedback that writers need.
Design Consideration #3
Prompt reviewers with specific, detailed questions
Good review prompts start good conversations. They give reviewers specific, structured language for how to talk about writing and generally ensure that writers will get the high-quality feedback they need to make productive revisions.
One of the best ways to prepare prompts is to reference the goals of the writing being reviewed. These goals should, ideally, be explained before writing starts. Explaining learning goals and objectives can lead to better first drafts, but clearly defining the metrics for successful writing will also give reviewers a framework for giving feedback.
As previously mentioned, quick, simple survey-like questions - including checklists, multiple choice questions, rating scales, and likert scales - can make rubric items measurable.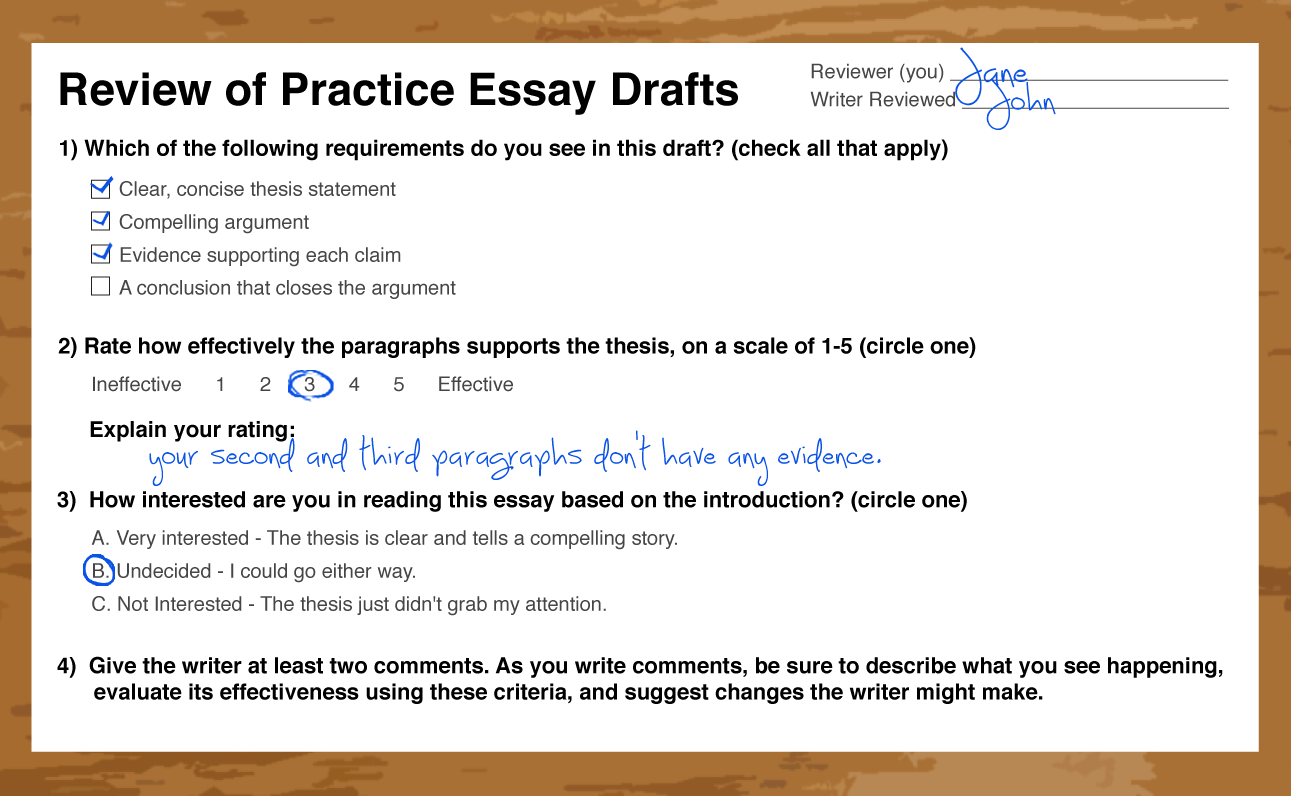 Questions 1, 2, and 3 in this example guide reviewers through the assignment criteria and direct them to make specific observations about evidence and the introduction. By the time they get to question 4, reviewers are ready to make detailed comments about how compelling and well-supported the draft is based on their previous observations.
Question 4 in this example asks reviewers to make open-ended comments. Comments are the most common form of feedback but aren't intuitive like survey questions. Section 3 looks in detail at designing effective comment prompts and coaching students to helpful feedback.